Leavenheath Primitive Methodist Chapel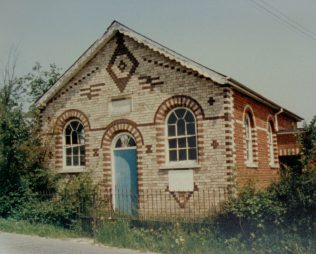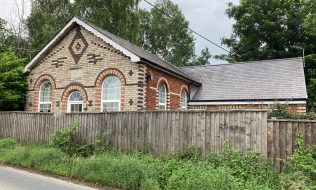 Leavenheath is south east of Sudbury. Leavenheath Primitive Methodist Chapel is at Honey Tye to the east of the village. It opened in 1861 and served until closure in 1982.
The opening on September 10th 1861 is recorded by Francis Webster. He reports that with a revival around 1859 a Sunday school was established, leading on to the need for a chapel. The new one, which measured 33′ x 21′, cost £170 of which they had raised £60. They obtained nine rods of ground, at £2 per rod, from Mr. Robert Stannard.
Preachers at the opening included Rev. T. W. Davids, Colchester, Revs. S. Fisher, W. Ward, Independents, F. Webster and W. Filby.
As well as the opening and closing dates, Keith Guyler's notes also say "closed 1933 became Sudbury". That doesn't make much sense to me; does it to you?
On Google Street View in 2009 it is in need of love and attention with boarded up windows; by 2010 replacement windows have been fitted and you can see improvements in the subsequent pictures.  It is a pretty standard design for Primitive Methodism in the area, but does boast decorative brickwork in a contrasting colour.
Location: 955358
---
Reference
Primitive Methodist magazine December 1861 page 743