Ipswich; Clarkson Street
Suffolk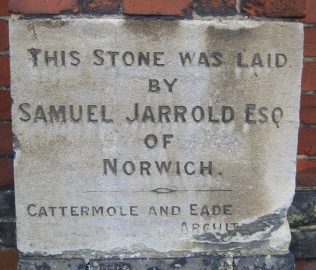 The foundation stones for this former PM chapel were laid in 1874. One was laid by Rev William Rowe, President of Conference that year, and another by Samuel Jarrold, son of the founder of the Norwich publishing firm. The Jarrolds were a well known philanthropic non-conformist family.
The chapel is a substantial Victorian red brick building, and the interior roof is constructed in Suffolk hammer beam style.
Inside is a plaque dedicated to A. E. A. Olding, and another with the inscription
INSTALLATION OF ELECTRIC LIGHT
1924
DEDICATED TO THE MEMORY OF
MR. JOHN STONE     MR. WALTER COMMONS
(LOCAL PREACHERS)
MRS. H.E.RAMM    MISS A. L. WALTON
(TEACHERS)
WHO WITNESSED BY THEIR LOVE AND MINISTRY
DEVOTION TO JESUS CHRIST 
The chapel closed as a place of Methodist worship many years ago, possibly in the 1950s. The pews have been removed and the pipe organ, which stood behind the pulpit was dismantled, and is now installed in a church in Spain. 
The building now houses the active Ipswich Community Church.