Eastbourne St Aidan's Primitive Methodist chapel
Whitley Road EASTBOURNE BN22 8NW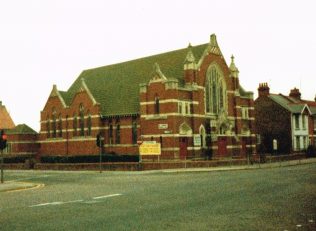 This is another of those Primitive Methodist buildings that look a bit too grand to be called a chapel.  The church in Keith Guyler's photograph was designed by Architects Baines and Sonto to provide for residents on the eastern side of Eastbourne. The style was Perpendicular Gothic Revival, and the building was mostly of red brick with some stonework.  It was opened in 1913 and still in use at the time of the photograph.  However, it was demolished in 2001 and replaced from 2003 by retirement/sheltered housing – St Aidan's Court. The Methodist society joined with the United Reform to form Emmanuel church.
Keith Guyler refers to at least two predecessors to this chapel. From 1911 a tin chapel of Congregational origin was used. Before that a chapel of 1897 had been used which was subsequently demolished.
Notes on the Online Parish Clerk site for Sussex say that the first Methodist chapel was in Grove Road (1810, classical, rendered). The first building on the St Aiden's site (1863-4) was by R K Blessley and was in the Decorated style of flint with stone dressings and pinnacles.  However the site does not make it clear which branches of Methodism or denominations these belonged to.
Another piece of the jigsaw is from the Primitive Methodist magazine of 1896.  It ways that Primitive Methodists  had for some years been holding services in an inconveniently situated hall.  Now they had been offered "good and well situated premises comprehending chapel and school." This was to be taken up, and a minister placed in the growing town.  He would be part funded by the national Missionary Committee and be part of the Brighton station.  The hope was to create an Eastbourne circuit by missioning some of the nearby villages.
Reference
Primitive Methodist magazine March 1896 page 234