Llandrinio Primitive Methodist Chapel Powys, Wales
A chapel was opened in 1835. The present building dates from1907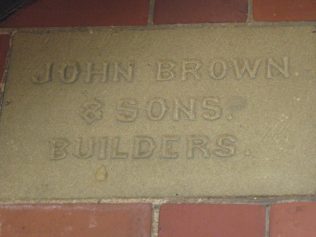 Llandrinio is often referred to as Rhos Common this being the part of the parish where the chapel is situated. It sits on the west bank  of the River Severn. Little is known about the earlier (1835) chapel except it has been converted into a dwelling. The 1878 plan shows no preachers but two Prayer Leaders,  T. Williams and E. Edwards.
Mr John Henry Brown, a Trustee, was responsible for the building of the 1907 chapel. In 1977 there were 48 members one of whom was the daughter of Mr J. H. Brown.
There was little indication in May 2012 as to whether this chapel was still open for worship. Sadly it appeared closed.
Photos taken May 2012.
OS Map ref:126:SJ296171
(note added CH 05/2017)
There is an account by J Pritchard in the Primitive Methodist magazine about the opening of a previous Llandrinio Primitive Methodist chapel in the Montgomery branch of the Oswestry circuit. The opening services were held on October 4th and 5th 1835 when the preachers were R Thomas, Mrs Sarah Edwards and  Rev  D A Owen (Independent minister). We are told that the land was given to the society and that there were good congregations on both Sundays and weeknights.
---
Reference
Primitive Methodist magazine 1836 p 149