Ashton Keynes Primitive Methodist Chapel, Wiltshire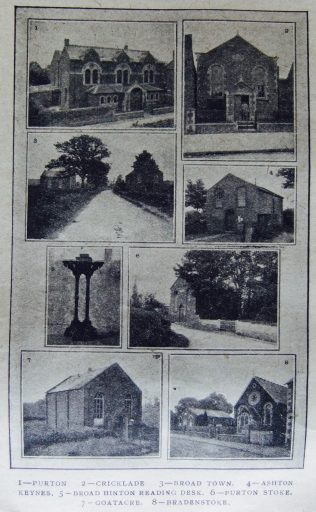 Christian Messenger 1922/78
The Wiltshire Community History website provides a brief history and pictures of this chapel.
Further information added Sept 2017 by Chris Hill
The opening of the chapel is recorded in the Primitive Methodist magazine for June 1841.  The account is written by Joseph Preston and transcribed in the attached document.
Opening services took place on May 3rd 1840.
Names mentioned in the report include Mr Foizey (Chippenham); Mrs Miles (Broad Town); Mr T Staley (builder); John Saunders; Mrs Cumming (nee Saunders); Wm. Richins; Mr Reynold; Joseph Hulbert.
The chapel, which measured 33′ x 21′ and 15′ from floor to ceiling, was built of stone with blue slate, had 5 sash windows and 10 pews and cost about £200.
It was still marked as the Primitive Methodist chapel on 1:2,500 Ordnance Survey maps in 1921. In 1971 it is marked as a Bakery. It is now a private house (SN6 6NZ) but still looks like a chapel.
Address: Gosditch, Ashton Keynes.  GR SU044939.
Reference
Primitive Methodist magazine for June 1841 page 208.
Downloads
Primitive Methodist magazine 1841 p208 transcribed by David Tonks