Bradenstoke (Clack) Primitive Methodist Chapel, Wiltshire
117 Hollow Way, Bradenstoke SN15 4ES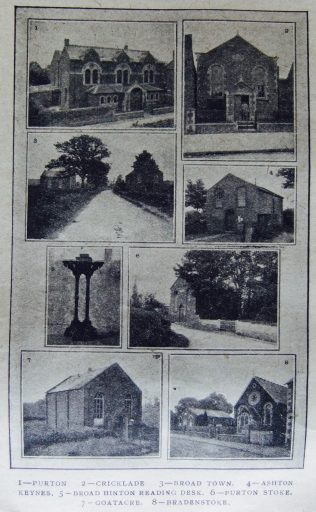 Christian Messenger 1922/78
The Wiltshire Community History website provides a brief history and pictures of this chapel.
(Additional information added Feb and Sept 2017 by CH)
More information about what is named as Clack Primitive Methodist chapel, the third chapel built in the Brinkworth circuit, comes from The Primitive Methodist magazine. John Petty describes the chapel opening in the 1829 magazine and Samuel Turner describes its improvement and re-opening in the 1853 magazine.
Opening services took place on Sunday 13th July 1828 when the preachers were Brothers Jukes and Ride  and Sister Ride. The new chapel measured 18′(w) x 28'6″(l) x 12′(h) and is described as well attended.
For some reason there are two returns for Clack Primitive Methodist chapel in the March 1851  Census of Places of Public Religious Worship.  They contain similar but differing information.  The first, dated 31st March 1851, is signed by Thomas Cumming of Brinkworth with Thomas Short as the preacher. On October 21st 1851 there is a second return, this time by Charles Little, manager (although it does not say manager of what – Primitive Methodism did not have a named role for a manager).  Was the second return because their was some confusion with a Wesleyan Methodist chapel on the first?
The chapel was built with an earth floor and this made the work of the society difficult, so in 1853 they installed a boarded one. The re-opening was celebrated at a service on February 6th 1853 when the debt was paid off in full.  Preachers were Rev S Turner and J Humphries.
In the weeks after the re-opening congregations grew and the Sunday School almost doubled.
The 1827 chapel was replaced by a larger one in 1887 which accommodated up to 150 people. It was built to the east of the first chapel.
The chapel was for sale by auction in Devizes in May 2016 with a guide price of £80,000. It had planning consent for conversion into a three bedroom home.
Reference
Primitive Methodist magazine 1929 page 287
Primitive Methodist magazine April 1853 pp.245-246