Purton Upper Square Primitive Methodist chapel
next to 5 Hoggs Lane Purton SN5 4BU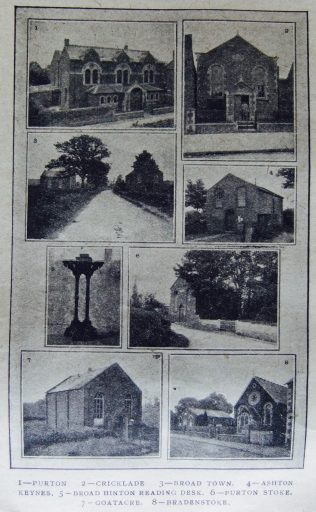 Christian Messenger 1922/78
The early Methodists in Purton encountered much resistance to their worship and it was said that not until 1852 could they 'worship without fear'. A meeting house was licensed for Primitive Methodists at Green Hill in the house of John Hunt on 11th November 1828. Early meetings also took place under an elm tree in Wills Lane and in the houses of members. Licensed houses belonged to  Uria Moall (December 1828), William Maul (January 1833), William Ellison (December 1836) and William Stealy (December 1836).
In 1843 a cottage in the Row was bought and converted to a chapel for £123. This building was in place when the 1851 Census of Places of Public Religious Worship was carried out.
The 1856 Primitive Methodist magazine contains an account by G Wallis of the opening of the new new Purton Upper Square Primitive Methodist chapel in Hoggs Lane.
"Purton is a populous village, in Wiltshire. It was visited by the Primitive Methodist missionaries thirty years ago, and for many years the worship of God was conducted in a cottage, and sinners were converted from the error of their way. Twelve or thirteen years ago, our friends built a chapel; but the situation was very bad, which proved detrimental to the progress of the cause. A new chapel was therefore desirable, and a cottage and garden were purchased, by the trustees, in a very eligible part of the village, called Mount Pleasant, on which site we have built a good, substantial chapel, 26 ft. by 40 ft., sufficiently high to admit of a gallery when needed. The walls are built of good stone; the roof is of foreign timber, and covered with blue slates. The floor is boarded, and the chapel is fitted up with pews, railed-back seats, and forms. "
The chapel cost them £300 of which they had raised about a half. It opened from Sunday, September 14th, 1856, with services and a tea meeting. Addresses were delivered by Mr. G. Warner, Rev. M. Thomas, Independent minister, of Wootton Bassett, Mr. G. Beale, G. Wallis, Mr. Thomas and Mr. J. Mapson.
Upper Square chapel was enlarged in 1893 and a school added. This is recorded in the 1893 Primitive Methodist magazine. The new memorial stone was laid on 7th August 1893 and the congregation met in a barn belonging to Mr Lewis of Blacklands Farm, Pavenhill, while the work was carried out. In 1911 a new heating system was installed while in 1912 the oil lamps were replaced by gas, which in their turn were replaced by electric lighting in 1927.
Purton Wesleyan and Primitive Methodist societies merged in 1969. Upper Square chapel was used up until April 1973 whilst Play Close was renovated. It was then sold and became a house. On Google Street View in October 2012 it appears well kept and retains many original external features.
Reference
Primitive Methodist magazine November 1856 p.688
Primitive Methodist magazine October 1893 page 638
Wiltshire Community History website accessed April 7 2017 at https://history.wiltshire.gov.uk/community/getchurch.php?id=548