Swindon; Regent Street Primitive Methodist chapel
Regent Street, Swindon, Wiltshire
Swindon Centenary Synod Handbook 1925
Swindon Centenary Synod Handbook 1925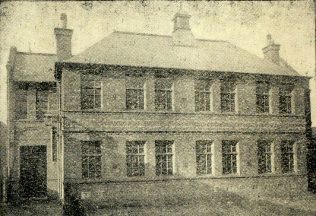 Swindon Centenary Synod Handbook 1925
The Souvenir Official handbook of the Brinkworth and Swindon District Synod, held in Swindon from April 28th to May 3rd 1910 to celebrate the Connexion Centenary gives the following information about the Regent Street society:
"The society was first formed at Eastcott, 1824-5.  In 1828 there were 15 members, today, though members have gone from Regent Street to help form all the other Primitive Methodist churches in the town – the membership is 180.  The church was built in 1876 at a cost with additions of £3,110.
The organ opened on February 1900 cost with minor structural alterations £300.  The whole is free of debt.  Since 1875 in addition to raising monies for Sunday School, missions, circuit, band of hope and all connexional funds &c., no less a sum than £9,450 has been raised for Trust purposes by this church an average of £270 per year.
Land for the school was purchased in 1887 and in 1894.  Foundation stones were laid on Easter Monday 1894.  Income from stonelaying services £270 of which sum £56 15s 8d was placed upon the Sunday School stone by the scholars.  Rev J Herridge was present and gave an address.  The School was opened on Jan 16th 1895.  Rev J Wenn, President of the Conference preached the opening sermon.  Amount raised at opening services £145.
The School provides accommodation for 850 scholars.  There is a large assembly hall, lecture room (upstairs), 8 classrooms, infants classroom and a junior's room &c.  Including land, the cost has been £3,140. There are 32 Sunday School teachers and 356 scholars."
Further background comes from the Wiltshire pages of British History Online.
"In 1848 Thomas and James Edwards, who had long been connected with Primitive Methodism, sold a field, through which Regent Street later ran, as a site for a chapel. The following year a small brick chapel accommodating about 150, with a burial ground to its east, was built. Membership was 27. In 1850 the congregation's first resident minister came to live in a thatched cottage in what later became Regent Circus. By 1863 the chapel had become too small, and that year a larger one, with an adjoining schoolroom, was built on the same site."
That 1863 re-building is also described by E Alford in the Primitive Methodist magazine. The re-opening of what he calls New Swindon chapel took place on September 20th 1863.
"By 1875 membership was 112 and again the chapel was found to be too small. The following year a third chapel was built on the site, with accommodation for 600. It was an ornate brick building with quoins of Bath stone and at its opening was described as 'one of the prettiest and best arranged public buildings in Swindon'. In 1877 Regent Street was the largest of the three Primitive Methodist churches that were formed that year into the Swindon Circuit, and was the focal point for the missionary activities of the Primitive Methodists in Swindon in the 1880s. In 1882 membership was well over 200. In 1887 road improvements in Regent Street made it necessary to make certain structural alterations."
In the last twenty years of the 19th century there was a marked increase in PM membership, in part due to the growth of the town with the Great Western Railway.   The Swindon circuit, only created in 1877, had grown so quickly that 13 years later in 1890 it was decided to split it into two in order to cope with the growth.  Regent Street became the parent church of the second circuit. Active members of the Regent Street congregation included as members Levi Lapper Morse and his son, William Ewart Morse, son and grandson of Charles Morse, both of whom were mayors of Swindon, county councillors, and M.P.s.  LL Morse was also Vice President of the Connexion.
You can find more information on Levi Lapper Morse in the People section of this site.
The 1894 Primitive Methodist magazine reports the laying of the foundation stones for enlarged School accommodation, including assembly hall, infants, junior, young men's and young ladies rooms and classrooms. It was expected to cost £2,750 of which they had raised £1,000.
The chapel was sited on Swindon's busiest shopping street and this became less suitable as the town continued to grow rapidly. In 1957 the chapel was demolished and its funds used to improve other Methodist churches in Swindon including the former Manchester Road Primitive Methodist chapel and to build a new chapel in Queen's Drive on the Walcot estate.
Reference
British History Online: A History of the County of Wiltshire: Volume 9 (1970) pp 144-159 http://www.british-history.ac.uk/report.aspx?compid=66548 (opens in new window) accessed May 8th 2014
Primitive Methodist magazine January 1864 page 48
Primitive Methodist magazine June 1894 page 477
Downloads
Description of Regent Street chapel from The Souvenir Handbook for the 1932 Brinkworth and District Synod, held in Regent Street chapel, Swindon, April 28th - May 4th
Article in the Primitive Methodist Magazine, 1925, which gives a history of the Primitive Methodist movement in Swindon and the Regent Street chapel.