Stockley Primitive Methodist chapel
Stockley Lane, Calne SN11 0NL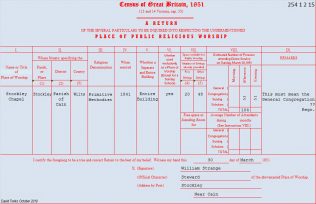 The opening of Stockley Primitive Methodist chapel is described in the Primitive Methodist magazine.
"Stockley   The plan and materials of this chapel are the same as the one at Chittoe, excepting that this is only twenty feet by fifteen in the clear. The farmers in the neighbourhood very kindly sent their teams to convey the materials, so that the expense in this department was a mere trifle. The whole cost, including the writings, one pound for the ground, and ten shillings for a tree which stood upon the premises, was seventy-six pounds eighteen shillings and sixpence.  
Towards this, by subscriptions, &c., the sum of thirty-three pounds five shillings and three half-pence has been raised.  The trustees have taken up forty pounds on interest, and there are outstanding bills to the amount of three pounds thirteen shillings and four-pence half-penny.
On Sunday, September 5,1841, it was opened for Divine service; Mr. Wilshaw, from Bath, preached in the morning and evening, and Mr. Reynolds, from Poole, in the Brinkworth circuit, in the afternoon.  The "GOLDEN System" was introduced on the occasion, and the sum of ten pounds was promised for the first anniversary.  The chapel, which is made Connexional, is well attended, and appears likely to be soon too small."
transcribed by David Tonks
An article from the 'Christian Messenger' on this website says the chapel was built in 1849, although the return from the 1851 Census of Places of Public Religious Worship also dates it as 1841.
The congregation prospered as on Census Sunday two services each attracted about 50 people.
The chapel is shown on Ordnance Survey maps of 1886 and 1924 at GR SU002677.  By 1973-5 only the burial ground is shown, it having apparently spread onto the site of the chapel.
Reference
Primitive Methodist magazine October 1842 page 377-378