Beverley (Wednesday Market) Primitive Methodist Chapel
This chapel was built in 1825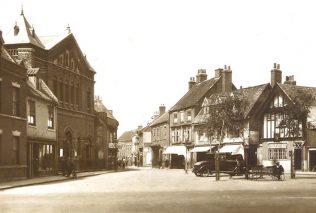 This large stone built chapel sat on the edge of the market place It cost over £700 to build and seated 400.
Little is known about the chapel but we know that in 1903 fifty members joined the Passive Resistance League. In January 1904 twenty one of them appeared before magistrates and in 1907 eighteen were still making half  yearly appearances each time more of their personal property being seized.
The chapel was eventually pulled down perhaps in 1957 ?
In its place is a shop now part of the street scene
Black and white photos provided by Simon Williamson
Photos of Wednesday Market in 2009
OS Map Ref: