Denholme Clough (Halifax Road) Primitive Methodist Chapel
The chapel is situated in Denholme Gate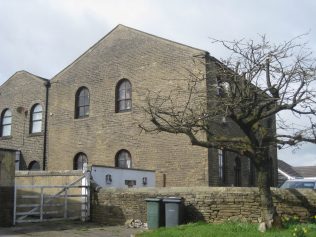 This large chapel was built of hammer dressed stone with an ashlar dressing. It has a stone slate roof. The plaque reads PM chapel built 1834.
The interior had a horseshoe gallery. A pulpit and table were installed in the early 1870s. There was seating for 250 and the Sunday School probably used the extension which was built on the rear.
The chapel closed in the mid 1980s and in 2017 it is converted into two semi-detached houses.
On the opposite side of the road is Denholme Clough Methodist Burial Ground. A notice indicates it has recently been sold (with further potential)!!
Photos taken April 2017
OS Map Ref:104:SE070325