Lockton Ebenezer Primitive Methodist Chapel
Lockton Yorkshire YO18 7PY
Photo taken June 2018 by E & R Pearce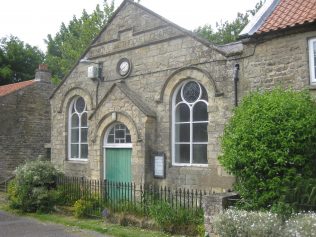 Photo taken June 2018 by E & R Pearce
Photo taken June 2018 by E & R Pearce
Photo taken June 2018 by E & R Pearce
Photo taken June2018 by E & R Pearce
Photo taken June 2018 by E & R Peaece
North Yorkshire County Record office holds Sunday School attendance registers and accounts from 1887-2002.
Keith Guyler notes that the chapel in his photograph was was rebuilt in 1898.  At the time of his photograph it was still in use.
However, at the time of posting this photograph the papers for the York and Hull Methodist District April 2015 Synod include a request from Lockton Methodist Church for permission to cease worship in the chapel building and for the said building to be sold.
In 2018 sadly the Chapel looked in a poor state of repair.
Location: SE8431790034
---
Reference
York and Hull Methodist District April 2015 Synod papers accessed April 19th 2015