New York Belle Vue Primitive Methodist Chapel
Pateley Bridge Road, Low Laithe HG3 4BU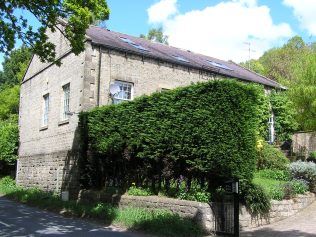 Here are five photographs of Bell Vue chapel as it was in June 2013. In truth, it is located in the hamlet of Low Laithe, rather than New York, as the latter lies about a third of a mile south-east of Low Laithe adjacent to the village now known as Summerbridge.
The opening of New York Belle Vue Primitive Methodist chapel in the Pateley Bridge circuit is described by William Jackson in the Primitive Methodist magazine. We are told that the village was first missioned in 1839 and a chapel with a Sunday school first built in 1844.
The entry in the 1851 Census of Religious Worship refers to the chapel – see picture. (Borthwick Institute for Archives 2005).
By 1859 there were 200 scholars and 40 teachers. The chapel was clearly not big enough so Richard Pullen gave £50 towards enlargement.  On the basis of the enthusiasm this triggered he and his wife then offered to finance the whole build. The new chapel measured 50'6″ x 34′ and 17′ high, was stone built, covered with slate, cost £500 and seated 436. 
Opening services for a new chapel were held from 21/08/1859.  Hundreds attended the opening encouraged by the good weather. Opening speakers were Rev R Smith, William Jackson and Rev Watkinson who preached in open air for those who could not get in.
On the day they collected £16 which they decided to use for a new organ. The old chapel was to be used for school-room, lectures and week night meetings. 
A year after the chapel opened, it was briefly closed to carry out improvements and, most importantly, the installation of an organ. Miss Ellen Wood of Smelthouse was the player at the opening.
The account is included here.
In 1863, a William Grainge (1863) described the chapel thus:
"Low Laith is another hamlet near the road from Ripley to Pateley Bridge, a short distance west of New York. The Primitive Methodists have an elegant place of worship here called Bell Vue Chapel, with minister's house and schoolroom, built in 1859, at the cost of Mr Richard Pullan, of New York." 
Colin Dews tells us that closure came about 1960.  
By the 1974 Ordnance Survey map, the building is not labelled as a chapel any more. On-line planning information from Harrogate Borough Council shows that the building had been converted to a dwelling by 1977. On Street View in 2011 it is in residential use – The Old Chapel.
Colin Dews also tells us that as well as the earlier chapel there was a manse in the hamlet, both of which he suggests are still standing but probably much altered.
---
Reference
Borthwick Institute for Archives (2005), University of York, Yorkshire Returns of the 1851 Census of Religious Worship, Volume 2: West Riding (North), John Wolffe (ed), (York, University of York)
Primitive Methodist magazine November 1859 page 684-685
William Grainge (1863), Nidderdale, or An Historical, Topographical and Descriptive Sketch of the Valley of the Nidd (Pateley Bridge: Thomas Thorpe), p.109
Editor's note: information from another page on this site about this chapel has been included in this page