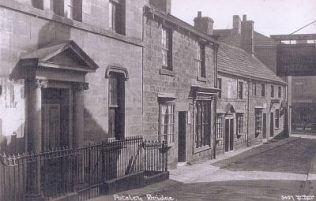 A Primitive Methodist society was first formed in Pateley Bridge in 1832, with a membership of 10. The town was then part of the Ripon circuit, as, indeed, was the whole of Nidderdale. The society must have grown rapidly, however, as the first chapel in Pateley Bridge was built in 1837; two years later, with a membership of 45, the town and surrounding area became a separate circuit, to which two ministers were appointed. The circuit account book for 1839 lists societies in 19 different locations.
Hugh Bourne visited the circuit in 1846, preaching in Pateley Bridge and in other locations.
The 1851 Religious Census records fourteen Primitive Methodist services in seven chapels. Pateley Bridge chapel recorded attendances of 87 in the morning, 59 in the afternoon and 140 in the evening, making it the busiest PM chapel in Nidderdale.
In A History of Nidderdale, the Pateley Bridge Local History Tutorial Class records that "the Primitives rebuilt their chapel at Pateley in 1859" as well as building new ones at Glasshouses and Lofthouse. That 1859 building can still be seen in Church Street, a few hundred yards down the road from the parish church of St Cuthbert that was built in 1827.
Following the 1932 Union, the Primitive and Wesleyan circuits merged, with the combined congregation occupying the larger Wesleyan chapel in Ripon Road, which had been re-built in 1909. The last Primitive Methodist plan, for June-August 1933, shows that only six chapels in Nidderdale were still holding services – Thornthwaite, Darley, New York, Glasshouses, Pateley Bridge and Grantley. The chapels at Glasshouses and Grantley also closed in 1933 when the congregations moved to larger Wesleyan chapels in the same villages.
Three years after it closed for Primitive worship, the old chapel building was taken over by the Salvation Army. However, by the late 1950s it seems that their congregations had dwindled to the point where they could no longer support a local officer.
In 1968, the local Pateley Bridge Dramatic Society (PBDS) converted the building into a small theatre, named The Playhouse, which remains the building's current use. The Society's web site describes how this came about:
"The empty building was subject to flooding as a beck ran under the floor; pews and furniture were beginning to rot. PBDS resolved to buy the building, but had only £30 in reserves. A purchase price of £125 was finally agreed on – a seemingly absurd figure, but at the time, property values were very low in the area, and the building was in a degraded condition. Also in the Society's favour was the fact that the vendors wished the building to be used for a community purpose rather than converted to a supermarket, bingo hall, or bookies, for which purposes approaches had already been made."
More about the conversion work and the present use of the building, including some interior photographs, can be found on the PBDS web site .
__________________________________________________________________________________
References
W M Patterson, Northern Primitive Methodism: A record of the rise and progress of the circuits in the old Sunderland district (London: Edwin Dalton, 1909)
D. Colin Dews, 'The Ripon Primitive Methodist Circuit, 1822-1842', Proceedings of the Wesley Historical Society, 56.4 (February 2008) 189-206
The Pateley Bridge Local History Tutorial Class, A History of Nidderdale, ed by Bernard Jennings, 2nd edn (Pateley Bridge: The Nidderdale History Group, 1983)
Borthwick Institute for Archives, University of York, Yorkshire Returns of the 1851 Census of Religious Worship, Volume 2: West Riding (North) (York, University of York, 2005)
Pateley Bridge Primitive Methodist Circuit Minutes and Accounts, 1839
Pateley Bridge Primitive Methodist Circuit Plan, 1933
http://www.pateleyplayhouse.co.uk/pages/about-the-playhouse.php