Ripon Primitive Methodist Chapel
An important location for Primitive Methodism in Yorkshire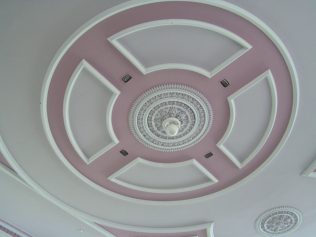 Englesea Brook Chapel and Museum
Primitive Methodism in Ripon
As a number of sources of Primitive Methodist history make clear, Ripon was an important and influential location for Primitive Methodism in the north of England. According to Patterson, a Primitive Methodist society was first formed in Ripon as a result of a visit by William Clowes on 4 March 1820. Petty records that he preached twice "with good effect" and that " a great excitement was awakened, and much spiritual good done". Ripon was made a branch of the Hull circuit in June 1820, and became a circuit in its own right in 1822. By 1828 Ripon had five travelling preachers on its station; in 1847 there were in the circuit and its two branches seven travelling preachers, with "two 'to be obtained'". The circuit also "sent out five travelling preachers". Neither was Primitive Methodism in Ripon a purely local affair. Patterson, writing in 1909, describes how "the original station covered the ground now occupied by the Harrogate, Knaresborough, Pateley Bridge, Thirsk, Ripon, Bedale, and Middleham Circuits".
The importance of Ripon for Primitive Methodism is demonstrated by Patterson:
"Ripon and its Middleham and Thirsk branches occupied ground on which men and women trod and wrought whose names have become inseparably interwoven with the formative period of the Connexion in the North, and some of whom, in the course of time, held high office and distinguished positions in the Connexion. William Clowes , of course, John Lightfoot , John Branfoot, William Lister , William Dent , John Day , Joseph Spoor , C. C. McKechnie , Thomas Southron , and William Fulton were among the stalwarts; and Mary Porteus , too, travelled there from 1828 to 1830."
Joseph Spoor was stationed at Ripon from 1836 to 1839, and more about his time there can be read in Chapter VI of Rev E Hall's book "The Earnest Preacher". Patterson recalls that, in 1838, "it was at Ripon where Joseph Spoor and William Fulton were arrested while they were holding a service in the Market Place". Spoor was followed at Ripon by John Hedley , who was minister there three times, from 1839 to 1841, from 1855 to 1858, and from 1869 to 1870.
Ripon's first Primitive Methodist chapel
According to the 1851 Census of Religious Worship the first Primitive Methodist chapel in the town opened in 1821. It was built on a site in Priest Lane, although no trace of it now exists. Evidence of its former location, near the junction with St Marygate, can be seen on old Ordnance Survey maps. The earliest maps dating from the 1840s show the premises marked as a Primitive Methodist chapel. The chapel was enlarged in 1841 and, on 30 May 1868, it was "duly registered for solemnizing marriages therein".
Bigger premises
Despite its enlargement, it seems that the chapel was still not big enough, but because the buildings now completely filled the relatively small site in Priest Lane it was necessary to look elsewhere for larger premises. In 1878, some land in Allhallowgate, a short distance to the west from Priest Lane, closer to, but still on the edge of, the town centre, was acquired from George Robinson, the Marquis of Ripon (who lived at Studley Royal), on which a new and considerably larger chapel was constructed. It opened for worship in 1881.
A banner from the Ripon Primitive Methodist Sunday School, said to have been painted sometime after 1880, was presented as a gift to Englesea Brook Chapel and Museum by Allhallowgate Methodist Church in 2002.
Some 80 years after the new chapel was built a church hall was added to the premises (opened in 1966) and in 2008 further alterations took place, resulting in a flexible suite of premises for a very active Methodist church and its local community. However, despite the later changes, the main elements of the interior of the church remain virtually unaltered since it was built.
The demise of the original chapel
It would seem that sometime in the early 1880s the former chapel in Priest Lane may have been acquired by the Dean and Chapter of Ripon Cathedral – the chapel appears to have been located adjacent to the cathedral precinct wall. What is certain is that, by 1891, the premises were a "working men's hall" (described as such on an OS map of that date); on later maps, the notation changed to simply a "hall". However, by 1968 the chapel had been demolished, along with the row of cottages to the west.
__________________________________________________________________________________
References
Kendall, H. B., The Origin and History of the Primitive Methodist Church, Vol. 2, (London: Robert Bryant, c. 1905)
W M Patterson, Northern Primitive Methodism: A record of the rise and progress of the circuits in the old Sunderland district (London: Edwin Dalton, 1909)
Petty, John, The History of the Primitive Methodist Connexion, from its Origin to the Conference of 1860, the First Jubilee Year of the Connexion, revised and enlarged by James Macpherson (London: J. Dickinson, 1880)
D. Colin Dews, 'The Ripon Primitive Methodist Circuit, 1822-1842', Proceedings of the Wesley Historical Society, 56.4 (February 2008) 189-206
Archives of the Dean and Chapter of Ripon, Leeds University Library, MS Dep 1980/1
Borthwick Institute for Archives, University of York, Yorkshire Returns of the 1851 Census of Religious Worship, Volume 2: West Riding (North) (York, University of York, 2005)
London Gazette, 12 June, 1868
OS 1:500 town plan of Ripon, 1891