Thorne Primitive Methodist chapel
South Parade, Thorne, DONCASTER, DN8 5DY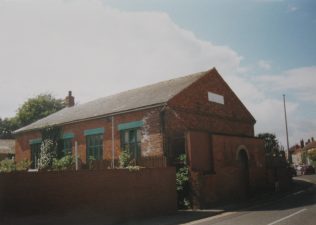 The notes with Keith Guyler's photographs say that the first Thorne Primitive Methodist chapel was opened in 1822.  The 1851 religious census showed it accommodated 120, the afternoon congregation was 70 people with 100 in the evening.  There was no Sunday School.   It was replaced by a second chapel in 1907, marking the Primitive Methodist Centenary. The Architect was W.G. Smithson of Leeds.
In 1970 the former Primitive Chapel closed and the congregation joined with that of King Street.  
At the time of Keith Guyler's photographs in 1998, the hall for the first chapel was used for storage and the second chapel was used by Howarth Timber. This was still the case on Google Street View in 2009.
However, there is a complication.  The Primitive Methodist Magazine for 1858 contains accounts of the laying of the foundation stone and opening of a new chapel in Thorne by the wonderfully named Robinson Cheesman. The stone laying ceremony took place on Tuesday November 3rd 1857. Despite the wet day, there was a procession from the old chapel, a tea meeting and good attendances. Addresses came from Rev T Greenbury, J Dickinson, J Hodgson, J Nelson and D Roberts. How does that fit with the two dates of Mr Guyler? Is it a different chapel?
The opening described by Mr Cheesman took place on March 28th 1858.Services and a tea meeting for 350 people were addressed by Mr Cheesman, T Whitehead, J Manners, J Dickenson, R Lazenby, T Dawson, J Hird and A Worsnop.
The chapel is described as 36′ x 30′, in the very best situation in town, an elevated gallery, gas lightings and a pallisade. It cost £300 of which £120 had been raised.
---
Reference
Primitive Methodist magazine January 1858 p.49 
Primitive Methodist magazine July 1858 p.433