Shepherdson, John William (1854-1912)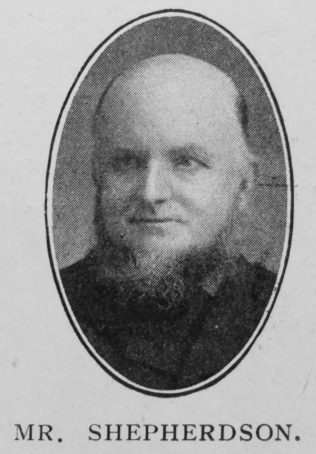 Transcription of obituary published in the Primitive Methodist Magazine by J.R.
Our High Calton Society, in the York First Circuit, has suffered a serious loss by the death of Mr. J. W. Shepherdson. For nearly forty years he has been a zealous and most acceptable local preacher. He maintained the liveliest interest in his work, and whenever and wherever he preached his congregation felt him to be all aglow with the story of the cross. He always carried himself cheerfully and with a child-like confidence in God. Few men could address themselves to their work with a more eager and workmanlike spirit than John William Shepherdson. 
From a protracted illness, which slowly sapped his strength he made a partial recovery, but a sudden attack of appendicitis early in March necessitated an operation in York Hospital. In a few days his powers of endurance failed, and on March 15th he passed to his reward in the fifty-eighth year of his age. A large funeral indicated the high respect cherished for our friend, and a deep and wide sympathy has been manifested for his sorrowing widow and family.
Family
John was born in the summer of 1854 at High Catton, Yorkshire, to parents William Shepherdson, a carpenter (1861), and Mary Ann Wilson.
Census returns identify the following occupations for John.
1871 joiner
1881 joiner & wheelwright
1891 joiner & wheelwright
1901 joiner
1911 joiner & wheelwright
He married Elizabeth Ann Clifford (1859-1937) in early 1880 in the Pocklington Registration District, Yorkshire. Census returns identify four of five children.
Frances Ann (1881-1969) – married Samuel Francis Whitfield, a carter (1911) and a lorry driver (1939), in 1904
Ernest Evelyn (1882-1958) – a joiner (1911)
Elsie Margaret (1884-1966) – married John Robert West, a labourer (1911), in 1908
Annie Lizzie (1886-1973) – a sick nurse (1911); married Arthur Monkman, a postman (1939), in 1918
John died on 15 March 1912 at York County Hospital, York, Yorkshire.
References
Primitive Methodist Magazine 1912/661
Census Returns and Births, Marriages & Deaths Registers