Tunstall, First Printed Preaching Plan, 1812
a memorial of the first PM plan, printed by Skinner, Wisbech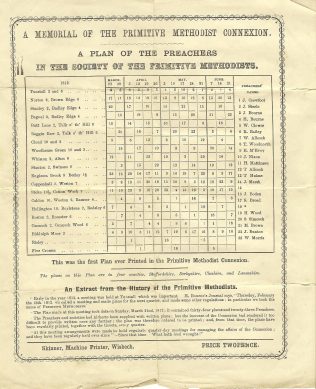 There are 34 places on this plan, in four counties: Staffordshire, Derbyshire, Cheshire and Lancashire.
The preaching places
By March 1812 services were being held at Tunstall, Norton, Brown Edge, Stanley, Badley Edge, Bagnal, Butt Lane, Talk o' th' Hill, Cloud, Woodhouse Green, Whiston, Alton, Stanton, Swinsco, Englesea Brook, Betley, Coppenhall, Weston, Stoke, Cotton Work, Caldon, Wooton, Ramsor, Hollington, Boylstone, Rodsley, Roston, Rocester, Cannock, Cannock Wood, Biddulph Moor, Rizley and Five Crosses.
The preachers
21 preachers are named. Top of the list is James Crawfoot, followed by James Steele, James Bourne, Hugh Bourne, William Clowes, R Bailey, W Allcock, Thomas Woodnorth, E M'Evoy, James Nixon, H Mattinson, Thomas Allcock, T Hulme, J Marsh, J Boden, S Broad, H Wood, S Simcock, M Brown, J Buxton and W Morris.