The Pickerings of Winlaton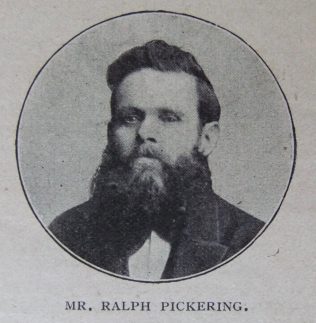 Transcription of article in the Primitive Methodist Magazine by W.M. Patterson
Let us call them that. There may not be a Pickering of that particular family nearer to it than Blaydon to-day, but Winlaton, speaking broadly, was the place of their origin, in the denominational sense.
The village named stands on the side of the Derwent, not far from where that tributary enters the Tyne. In the year 1845 an event occurred there which has borne much fruit in the succeeding decades. It was a very simple event – an act done by a kind-hearted Sunday school superintendent, the late James Hurst, "General Jimmy," who, with his colleague, John McColvin (grandfather of C.C. McColvin, J.P.), was a tower of strength in the days when the Primitive Methodist Society in the village had its struggles. He invited a collier lad of fifteen, named Matthew Tulip Pickering, to the school, and Matthew went. That was the beginning; the outflow has been remarkable in numerous ways. Whether the story is entitled to be called a romance in real life let the reader judge.
Matthew was the eldest of the family, and he had been working in the pits since he was nine years of age. His father, originally from Haltwhistle District, was a quiet man, with considerable resources of strength; his mother was a woman of great force of character. The family consisted of five sons and three daughters, and the circumstance of the eldest lad going to the Sunday school was the turning-point in the lives of his brothers and sisters. John followed his brother Matthew to the school and the society, and thereafter Robert and Ralph and the girls when they grew up. William was also a member of the church at Winlaton, a keen student, and might have been in the Presbyterian ministry. Removing to Newcastle, he joined the Wesleyan Church.
"General Jimmy" did better than he knew when he got hold of the youth for the school that day. Let us follow Matthew, first in order. In his early years he had few school opportunities, but he was soon awakened to the great need of acquiring knowledge, and he gave himself to reading and study. He was a constant and faithful student all his life through. Sparse as his attainments were in his boyhood; he was forthwith made a teacher in the Sunday school, and he remained a teacher for fifty-seven years. Early in life his dominant characteristics began to emerge – strength, rectitude, wise judgment, sincerity. Promotion at the Colliery was the result. As overman he exerted a powerful influence over the men, and was a force for righteousness and progress in the village. When he removed to New Delaval, near Blyth, the villagers let him know in a tangible way how high he stood in their regard. At Blyth Mr. Pickering lived laborious days. As a local preacher he walked long distances; as a teacher he put his conscience into his work. In both spheres he had visible fruit, for several men in the itinerant and local ministry, and others working for the Lord in different ways, came under his spell. While his Church had first place in his activities and regard, public affairs appealed to him, and for several years he represented Blyth on the Northumberland County council, during which he got a bye-law passed to prohibit street betting throughout the county. His circuit, of which he was steward for some years, sent him to District Meeting several times, and on occasions the latter sent him to Conference. Very much more work than has been told was undertaken by him, in addition to his exacting duties as a mining official. And with reference to his station-stewardship, it is a noteworthy fact that at one and the same time three brothers were circuit stewards in the Sunderland and Newcastle District – Matthew at Blyth, John at Blaydon, and Robert at Sunderland. That is surely a record! Another interesting fact is that at one time six of the Pickering family were members of the district Committee.
Matthew's sons, Adam and Matthew, follow in their father's footsteps, the father and two sons being at one time on the Blyth plan as local preachers together. Adam, who has now been a local preacher for some thirty-four years, was urged in his youth to go into the ministry, but he felt his way of service in the Church was as a local preacher and Sunday-school teacher, and in these and other capacities he has given devoted labour.
In the case of the younger brother, however, the call to become a travelling preacher reached a heart charged with a conviction that he ought to obey the voice of his brethren, believing it to be the call of God, and the name of Matthew T. Pickering is now known throughout the Connexion. Though he has travelled twenty-nine years, his stations have been few – Ludlow, Maryport, Hexham, Blyth (his father was his circuit steward during the six years he was there), Jarrow, South Shields, Birkenhead II., and Leeds IX. As It circuit minister few excel him; and that, after all, is where the crown of the ministry is found. Wherever he has been stationed the churches have felt the glow of his enthusiasm, the inspiration of his mind, the thrill of his sincerity, and the solace of his sympathy. And God has honoured him by setting His seal upon his ministry in the salvation of souls. And his brethren have honoured him. He is a circuit man, but he is also a district man and a Connexional man. In the administrative work of his district he willingly takes his part, and as chief of committees he has executed his leadership with rare ability. Seldom absent from committees, he was as seldom absent from District Meetings, and had the honour of being chairman of the never-to-be-forgotten Chester-le-Street assembly. And what of Conferences? Well, the answer is: At Reading, in 1915, exactly seventy years after "General Jimmy" got his father to go to Winlaton Sunday School, he was elected vice-book steward by a vote which left not the shadow of a doubt as to the will of the delegates.
Matthew, the elder, died in 1902, when he was seventy-two years of age; Robert lived until 1910, when he passed away in his seventy-fifth year; Ralph "crossed to the other side" in 1902, aged fifty-five; John still survives, and is now eighty-two years of age. He is an extraordinary man is John Pickering, whatever way he may be regarded – a keen, able business man, a genial host, a devoted and valiant Primitive Methodist. Of strong convictions, he is a personality to be reckoned with, and what he has done for his Church and his fellows can never be computed down here. Of average height, and without rotundity, he is a physical marvel. Again and again and again he has survived the surgeon's knife, and still attends, to his society steward's duties. He was elected to so recent a Conference as Norwich, and he went. His heart keeps fresh and buoyant; and while he delights to talk of the old days and old folk in Tyneside Primitive Methodism, he looks with con?dence to the future. He recalls with pride that he has had fellowship with into the teens of ministers who have been Presidents of Conference. With equal devotion John's son Charles gave his gifts of song to the work of the Church, and it was a great loss to the earthly temple when he was called to the higher service while it was yet noon. Mr. and Mrs. Denton, John's son-in-law and daughter, together with some grandchildren, are actively associated with Blaydon Society.
Sunderland Primitive Methodists – and Sunderland town as well – knew Robert Pickering intimately. He went to the Wearside capital in 1856, and succeeded in building up a clothier's business. A man of known probity and fidelity, he won the confidence of the townsfolk; a local preacher of many gifts and high character, he was welcome in the societies of the immense Sunderland Circuit of his earlier days and also in the pulpits of other churches; a devoted Sunday school teacher, he was honoured beyond his denomination by being made president of the Sunderland Sunday School Union; a reliable class-leader, kindly and as true as steel, he exercised a commanding influence in Tatham Street Church and in Primitive Methodist circles in the town. He was vice-chairman of the District Synod at Cullercoats when his nephew Matthew was G.C.D., and when his nephew William was ordained. His son and two daughters are connected with the Church, and render all possible aid to the cause which their parents nobly struggled to maintain.
Ralph Pickering's family is a great asset to the Kingdom of God. He himself was a local preacher for some years, intensely concerned in the welfare of Nelson Street Church, Newcastle, a fane of hallowed memories, and he lived to see the opening of the Central Church. His family consists of five sons and four daughters, all of whom, in their several spheres, are doing good work. Foremost comes William, who entered the ministry in 1901, and has made for himself a large place in his native district. Mentally a strong man, five years before he began his ministerial career he won an exhibition, and had three years' training in the Royal College of Science, London, where he gained an associateship in chemistry (first class). In his examinations he was top of the list each year in college and on probation, one year of the latter being remitted. In 1914 he gained his B.D. at London University, and has the honour of being our first minister who obtained that degree there.
His brothers Harold and Herbert are surveyors and sanitary inspectors, both associates of the Royal Sanitary Institute. Harold is at Dunstable, a local preacher and junior circuit steward, and was sent to the Reading Conference by his district. Herbert is society steward at Southam, in the Warwick and Leamington Circuit, and keeps up the traditions of his family. Ralph, who is a B.Sc., and Robert are serving in the Central Church and School, Newcastle. Of Ralph Pickering's four daughters, it may be added that one – Annie – is the wife of one of our ministers, Rev. J. Joseph Cook.
Regarding the females of the original stock, Jane, who lives in London, had, for the sake of convenience to join the Wesleyan Church. Belle died many years ago, and Lizzie, widow of the late Edward Holmes, resides at West Norwood, London, with her daughter.
Family
The Pickering dynasty began with Robert Pickering (abt1806-1863) Robert worked the land. He married Elizabeth Tulip (abt1809-1894) on 19 June 1830 at Ovingham, Northumberland. They had the following children.
Matthew Tulip (1830-1902): Matthew was baptised on 28 November 1830 at Ovingham, Northumberland. Mathew was a coal miner, and promoted to the position of deputy overman. He married Mary Jones (abt1830-1885) in the spring of 1858 at Gateshead, Co. Durham. Census returns identify four children.
Robert John (1859-1928) – an assurance superintendent (1911)
Adam Forster (1862-1928) – an assurance agent (1901)
Matthew Tulip (1865-1921) – a PM Minister
Ralph William (1870-1871)
Isabella (1832-1872): – a house servant (1861)
John (1834-1928): John was baptised on 24 August 1834 at Winlaton, Co. Durham. He worked as a colliery engineman (1871) before becoming a furniture dealer (1881). Later census returns identify that he was also a grocer and cab proprietor.
John was married to Elizabeth (abt 1837-1919). Census returns identify four children.
Charles Edward (abt1862-1911) – a domestic coachman (1911)
Elizabeth Jane (1864-1932) – married Robert Robinson Denton, an iron foundry foreman (1911), in 1885
Robert (1866-1940) – a cab proprietor (1928)
John Thomas (b1873) – a house agent (1928)
John died on 25 April 1928 at Blaydon, Co. Durham.
Robert (1836-1910): Robert was baptised on 3 April 1936 at Winlaton, Co. Durham. He worked as a tailor. Robert married Martha (abt 1839-1899). Census returns identify three children.
Elizabeth Ada (b1866)
Robert Henry (abt1870-1942) – a tailor
Kate Lilian (1874-1950) – a post office telegraphist (1901); married Thomas Ladlay in 1920
Robert died on 3 September 1910 at Sunderland.
Jane (b1841)
Ralph (abt1847-1902): Ralph became a manufacturer of sauces in Newcastle upon Tyne. He married Elizabeth Ann Robson (1849-1930) in late 1872 at Newcastle upon Tyne. Census returns identify nine children.
William (1873-1917) – a PM Minister
Mary Elizabeth (b1875) – married Charles William Stillwell in 1896
Annie (b1877) – married John Joseph Cook, a PM Minister, in 1909
Harold (1879-1942) – a surveyor of highways (1911)
Herbert (1885-1958) – a sanitary engineer
Isabella (b abt1887)
Ada (b abt1889)
Ralph (1891-1951)
Robert (b abt1893)
Elizabeth (b abt1847)
William (b abt1852)
References
Primitive Methodist Magazine 1917/398
Census Returns and Births, Marriages & Deaths Registers