Allcock, John Lloyd (1862-1938)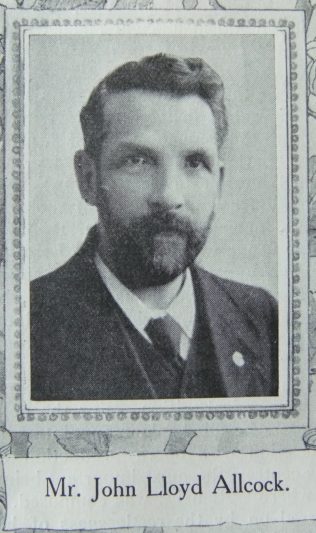 Transcription of Magazine 'Sketch'
Mr Allcock came to Knighton in 1864. He was received on Hull (Full?) Plan in 1866, and has rendered splendid service as a local preacher, but it is in the double capacity of Society Steward (since 1880) and Circuit Steward (1890) that his unique gifts are seen.
An ideal Circuit Chancellor, he is devoted to the Master's work, always ready and willing to do his utmost for the Christ he loves.
At the December Quarterly Meeting, 1908, he was presented with an illuminated address for the eighteen years service he had rendered as Circuit Steward.
He has been delegate to District Meeting three times, twice elected delegate to Conference. He is an ex-president of the Free Church Council (local) and ex-President of Radnorshire Liberal Association.
He is a loyal supporter of the Connexion.
On 22 January 1911, he celebrated his silver wedding. We wish for him and Mrs. Allcock many happy years of Christian service.
R.R.
Family and other information
John was born abt 1862 at Stourbridge, Worcestershire, to parents Thomas and Sarah. Thomas was a grocer.
John moved to Knighton in 1884, not 1866 as documented in the sketch above, where he opened a grocery business. Prior to that he had been a grocer's assistant in West Bromwich, Staffordshire. By the time of the 1901 census, the business was described John is described as grocer and baker.
John married Sarah Jane Lloyd (abt1862-1935) on 22 January 1886 at Knighton, Radnorshire. Census returns identify four children.
Ethel Sarah (b abt1887) – a house-keeper (1911); married John Griffiths on 18 September 1911.
Charles John Greenwood (1888-1932) – a grocer's assistant (1911)
Dorothy Mary (b1892) – book-keeper at ironmongery (1911)
William Thomas Lloyd (1896-1917) – attended Bourne College; WW1 pilot – killed in action
John died on 28 March 1938 at Bourne House, Knighton, Radnorshire.
References
Primitive Methodist Magazine 1911/136
Primitive Methodist Leader 5 October 1911
Census Returns and Births, Marriages & Deaths Registers