Adams, William J.P. (1857-1911)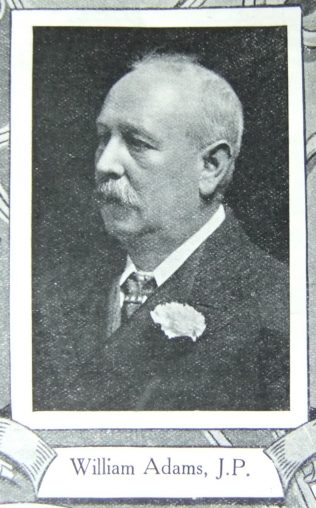 Transcription of Magazine 'Sketch'
William Adams, eldest son of the late Henry Adams, was born at Wombwell. He came to Birmingham 25 years ago and joined Thomas Street society. An ardent lover of music he was appointed organist and then choirmaster. In 1890 he became joint Circuit Steward, and when Thomas Street was made the head of a new Circuit became Steward, which office he has held ever since. The Sparkhill Church succeeded Thomas Street, and one little society has become a Circuit with two ministers.  Mr. Adams was a County Councillor for nine years; appointed a magistrate for Warwickshire ten years ago, and recently on the Worcestershire Bench. Mr. Adams believes in the genius and destiny of Primitive Methodism, and is doing much in its behalf. He has been a delegate to Conference several times, including the Centenary Conference at Tunstall. He is a lover of our Zion, and a giver on a magnificent scale.
Family and other information
William was born in 1857 at Darfield, nr Wombwell, Yorkshire, to parents Henry and Rebecca. Henry was a director of an assurance company. William was baptised on 2 August 1857 at Darfield.
William followed his father into the insurance business.
William married Martha Jane Rogerson (abt1857-1930) in the summer of 1879 at Sheffield, Yorkshire. Census returns identify four children.
Mabel (abt1881–1954) – married Spencer John Newey, a surveyor
Gertrude Lilian (b abt1883) – married William Stephen Cowin, a medical practitioner
Esther (b1884)
Hilda (b1890) – married George Wilberforce Siddall Jones, a schoolmaster, in 1916
William died on 28 February 1911 at Kings Norton, Worcestershire. He left an estate valued at £78,500.
References
Primitive Methodist Magazine 1910/610
Census Returns and Births, Marriages & Deaths Registers