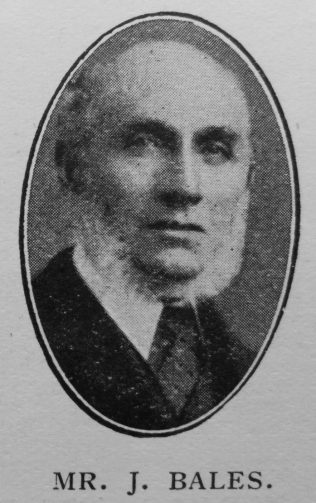 Transcription of obituary published in the Primitive Methodist Magazine by F. Hobson
Jacob Bales was born at Alston in 1828, and died at Tyne Dock, Dec. 28th, 1910, at the age of eighty-two years. A typical dalesman, he was deservedly esteemed and respected as a man of sterling, upright character. Amongst his workmates his counsel was often sought, and his word went a long way. Up to the end of his days, Bro. Bales would tell with joy the story of his conversion in 1865. He came to Tyne Dock in 1869, and joined the Lord Nelson Street Church. He was an example of consistent piety and conduct, a diligent attender at the Class meetings, prayer meetings, and the means of grace. He never occupied a prominent part in the public service of the Church, but he was a living epistle, "known and read of all men." 
In his own home, night after night the family was gathered together for the reading of the Scriptures and prayer. Daily, by his conversation and conduct, he manifested a genuine, but unassuming spiritual character. He dearly loved the Church below, and now experiences the joy of the Church above.
Family
Jacob was born in 1828 at Alston, Cumberland, to parents Joseph, a lead miner, and Ann. He was baptised on 20 January 1828 at Alston.
Census returns identify the following occupations for Jacob.
1841 lead miner
1851 lead miner
1861 lead miner
1871 labourer
1881 coal trimmer
1891 coal trimmer
1901 coal trimmer
He married Mary Dickinson (abt1830-1893). Census returns and birth records identify ten children.
John (1856-1911) – a railway engine driver (1901)
Joseph (1858-1899) – a railway clerk (1891)
Jacob Matthew (1860-1884) – a mineral guard (1881)
William Martin (1862-1922) – a coal trimmer on ship (1911)
Jane Ann (1863-1911)
Mary Elizabeth (1865-1870)
Sarah Hannah (1868-1941)

 

– married William Johnson, a picture framer (1911), in 1892

     

Nicholas Lodge (1870-1943) – an engraver & brass cleaver; deaf from birth
Thomas (1872-1948) – a coal trimmer (ship) (1911)

 

James Robert (1876-1938) – a railway locomotive fireman (1911)
Jacob died on 28 December 1910 at Tyne Dock, Co. Durham.
References
Primitive Methodist Magazine 1911/576
Census Returns and Births, Marriages & Deaths Registers
Note: I have not been able to identify a marriage record for Jacob. Family trees on ancestry.com record that the marriage took place at Gretna Green.