Barnard, Charles William (1861-1909)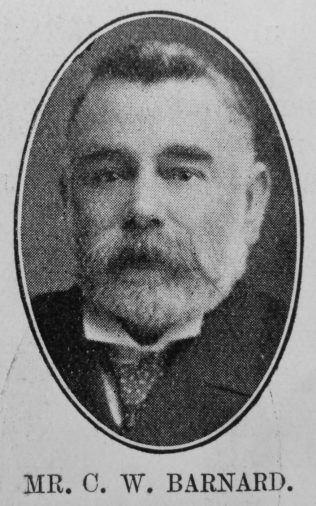 Transcription of Obituary published in the Primitive Methodist Magazine by W.T.C.
Mr. C. W. Barnard, Patrington Circuit, was born at Patrington Haven forty-six years ago. He resided in the neighbourhood all his life, pursuing the calling of a grocer.
He was converted in his early youth while still a scholar in the school at Patrington, wherein he laboured until his death.
A consecrated and energetic Christian he fulfilled a useful ministry in the church, being a successful class leader, organist, choir master, and teacher. His gift of song was gladly used in the Master's service. It was very seldom he missed a preaching service or failed to start the tunes. At camp meetings he was indispensable, leading the singing at all the services with a sure instinct for tunes that would "go."
He took special interest in the young people, one of his last ventures being a week-evening meeting for the elder scholars with a view to securing their hearty attachment to the fellowship of the church. Of sunny temperament and cheerful conversation he won the friendship of many, by deep convictions and steadfast loyalty to Christ and the Church, he gained the respect of more. He was called away suddenly in the midst of his labours.
On Sunday, July 11th, he did a full day's work in the sanctuary, at school, and organ for the service in the afternoon, at his class at the conclusion of the service, at the evening service again, and the prayer meeting, and then a visit to a sick neighbour. He arose on the Monday morning, but before he could enter on the duties of the day God touched him, and without word or sign he passed away.
The interment took place on, 14th inst., when a large concourse of people testified to the esteem in which our brother was held.
Family
Charles born in late 1861 at Patrington Haven, Yorkshire, to parents John Barnard, a flax dresser (1871), and Mary Ann Curtis. He was baptised on 24 November 1862 at Patrington.
Census returns identify the following occupations for Charles.
1881 domestic groom
1891 grocer
1901 grocer & tea dealer
He married Jemima Stonell (1862-1930) in the summer of 1888 at Patrington, Yorkshire. Census returns identify two children.
Frances Alice (abt1891-1926) – married Frederick G Hillyard in 1919
Mabel (b1894) – married Harold Calvert in 1922; a widowed grocer shopkeeper (1939)
Charles died on 12 July 1909 at Patrington, Yorkshire.
References
Primitive Methodist Magazine 1909/829
Census Returns and Births, Marriages & Deaths Registers