Blackburn, William (1835-1909)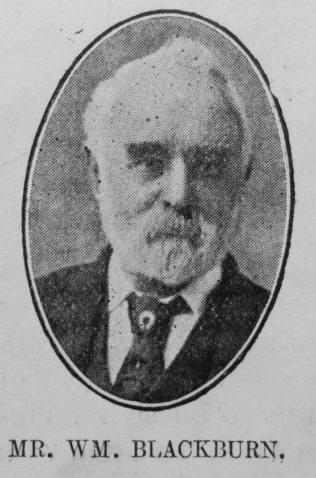 Transcription of Obituary published in the Primitive Methodist Magazine by J.G.S.
Mr. Wm. Blackburn died on Saturday, June 26th, 1909. For nearly fifty years he had been associated with Methodism in Burnhope, Craghead, and Chester-le-Street. He was a sturdy, upright, genial man, always meeting the world with a smile, and by the beautiful simplicity of his life exercising a wholesome influence upon all who knew him. Called to a difficult station in life as a colliery manager he discharged his duties with faithfulness and integrity. The interests of his employers were always safe in his hands, and the employees regarded him with confidence and respect. So sincerely was he trusted that he became in himself a savings' bank for the miners of Craghead. When they desired to save money they placed it in his hands and their confidence was never betrayed, but in numerous ways their thrift was encouraged.
When he retired over twelve years ago employers and employees united to pay practical tribute to his worth and both were represented at his funeral.
His membership in our church at Chester-le-Street dates from the time of his retirement. In that period his loyalty and devotion have been untiring. A man of simple, religious faith he gave his best to the church, and his gifts were both numerous and large. He believed that the Providence of God had to do with everything in his life, and whenever he felt that he had been the recipient of special mercies he gave out of a grateful heart special gifts to the church.
The Sabbath day was always a high day to him, and while he worked hard six days every week he found his Sabbath rest in the fellowship of worship and the joy of Christian service.
His heart was young to the end, and the young members of the church always found in him a sympathetic counsellor and friend. The charm of his home life was irresistible, and in his friendships he was loyal and true.
The end came with great suddenness. He had been active and strong all his life, and when in the weeks immediately preceding his death he was attacked with heart trouble he could not be persuaded to rest and take life quietly. Half an hour before death the writer followed him down the street and remarked on the briskness of his step and the amazing vigour of his old age.
In the house of an old friend the finger of death touched him, and in a moment he was gone. It was like the plucking away of half of the life of that old friend. Great was the consternation of his comrades and associates and the members of his family were prostrated with the great and sudden sorrow.
The gathering of friends at the funeral was large and representative. At the service which was held in the Central Church, Chester-le-Street, the Revs. M.A. Drummond, G. Fawcett, W. Campbell, and A. Watson took part, and the Rev. J.G. Soulsby gave an address. Sweet are the memories of him in many hearts and homes, and for many years to come men will speak of him with tenderness and love. The memory of the just is blessed. Surely to be so remembered and spoken of is a great testimony to the character of the departed. And it is an unspeakable comfort to the sorrowing friends to think of the noble and devoted life of him whose loss they mourn. Old comrades think pensively of the days that are gone and as they say "We shall see him no more in this world" it is with the glad hope of yet meeting him again on high. Following the sense of sudden loss is a feeling of gratitude to God for the life that has been lived, the testimony given and the assurance of a grand re-union. An old man in years William Blackburn remained young in heart as he was vigorous in body, and we think of him now as having renewed his youth and entered with gladness and joy into the service of Heaven.
Family
William was born abt1835 at Washington, Co. Durham, to parents Thomas, a colliery labourer (1851), and Alice.
Census returns identify the following occupations for William.
1861 coal miner
1871 coal miner
1881 overman (colly)
1891 colliery overman
1901 retired colliery overman
He married Mary Suddick Watson (1837-1906) in late 1859 in the Durham Registration District, Co. Durham. Census returns identify five children.
Thomas (b1860)
Mary Jane Watson (1868-1939) – a baker & confectioner (1891); married Joseph Butt, a china merchant (1911), in 1908
Elizabeth Ann Watson (1870-1933) – a baker & confectioner (1891)
Georgina Watson (1873-1887)
William Watson (1875-1947) – a confectioner (1901)
William died on 26 June 1909 at Chester le Street, Co. Durham.
References
Primitive Methodist Magazine 1909/911
Census Returns and Births, Marriages & Deaths Registers