Bonney, Elizabeth Matilda (nee Stead) (1843-1913)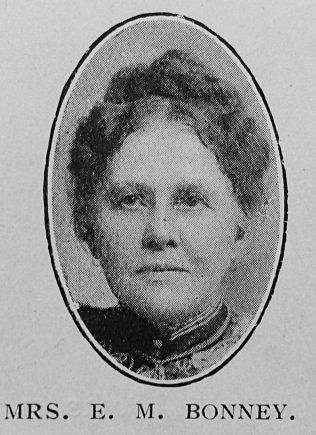 Transcription of obituary published in the Primitive Methodist Magazine by J. Whittle
Elizabeth Matilda Bonney, the beloved wife of Thomas Bonney, and mother of Rev. T. Bonney,  received her call to the higher life and service on July 16th in the sixty-ninth year of her age. For forty-seven years she has had an unbroken membership in the Blackburn First Circuit. Her piety was deep and sincere. Her devotion to the Church and its services was intense and constant. Her prayers were most fervent and effectual. Her bright light shone the brightest in her home. Here the love which enriched and beautfied her whole life poured itself forth without restraint or hindrance. 
It speaks much for the piety and home influence of our sister and her husband, that all their children are members of the Church, and most of them have been devoted workers. It was a great joy to Mrs. Bonney when her son entered our ministry. 
For some time before her home-call she was greatly afflicted, but her end came suddenly. The funeral was conducted by Rev. G. Featonby, and an impressive memorial service was held in our Montague Street Church on July 27th, conducted by Rev. T.J. Watson.
Family
Elizabeth was born on 7 August 1843 at Blackburn, Lancashire, to parents James, an ostler, and Mary. She was baptised on 10 September 1843 at Blackburn.
She married Thomas Bonney (1845-1918), a pawnbroker (1891), on 2 February 1869 at Blackburn, Lancashire. Census returns identify seven of eight children.
Mary Alice (1870-1961) – a machinist of ladies clothing (1911)
Margaret Ellen (abt1873-1924) – married Wilfrid Entwistle, a foreman for metal and machine broker (1911), in 1899
Elizabeth Matilda (abt1875-1921) – house-keeper for brother

 

(1911)
Hannah (1877-1952) – a dressmaker (1911)
Thomas (1879-1966) – a PM minister
John Arthur (1881-1881)
Lily (1883-1976) – a shop assistant (1911); married William Bell, a stockbroker (1939), in 1912
Elizabeth died on 16 July 1913 at Blackburn, Lancashire.
References
Primitive Methodist Magazine 1913/915
Census Returns and Births, Marriages & Deaths Registers