Bostwick, George (1843-1910)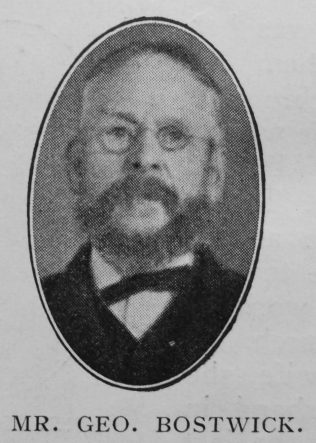 Transcription of obituary published in the Primitive Methodist Magazine by J.W. Waddell
George Bostwick was born September 19th, 1843, at Silkstone Common, in Barnsley Circuit, and was cradled in Primitive Methodism. First a scholar, then a teacher, he was promoted to be superintendent of the School, and never left his post until compelled by sickness a short time before his death. 
He was mainly the founder of the chapel at Silkstone Common, which was built in 1868, where he was superintendent, class leader, and society steward for forty years. Deeply interested in the training of the young, he was very regular and punctual in his attendance at school and sanctuary. He was never ashamed to give his testimony, and during twelve months of sickness he proved the sustaining power of religion. 
He passed to his reward, June 24th, 1910, leaving a widow, son, and daughter to mourn his loss. A man of strong character and spiritual force, he was greatly respected. Letters of sympathy were received from the Revs. L.E. Ellis, J. Shepherd, C. Dudley, W. Huffington, J. Teece, all of whom testified to his sterling worth, devotion and loyalty. His remains were interred at Silkstone, followed by a large company of mourners. The Rev. C. Dudley preached a memorial sermon. 
Family
George was born on 19 September 1843 at Silkstone Common, Yorkshire, to parents Benjamin, an engine tenter, and Mary. He was baptised on 15 October 1843 at All Saints, Silkstone with Stainborough.
Census returns identify the following occupations for George.
1861 apprentice cabinet maker
1871 cabinet maker
1881 cabinet maker
1891 cabinet maker
1901 cabinet maker
He married Agnes Hague (1849-1921) in the spring of 1872 in the Barnsley Registration District, Yorkshire. Census returns identify eight of ten children.
William Arthur (1873-1942) – a railway passenger guard (1911)
Mary Emma (1875-1890)
Joseph Alfred (1876-1891)
Martha Ellen (1879-1890)
Annie Priscilla (1881-1895)
John Merriweather (1883-1902)
Cyril Craven (1885-1895)
Dorothy Merriweather (1887-1957) – married Francis William Allen, a signalman, in 1913
George died on 24 June 1910 at Silkstone, Yorkshire.
References
Primitive Methodist Magazine 1910/
Census Returns and Births, Marriages & Deaths Registers