Boucher, James (1831-1911)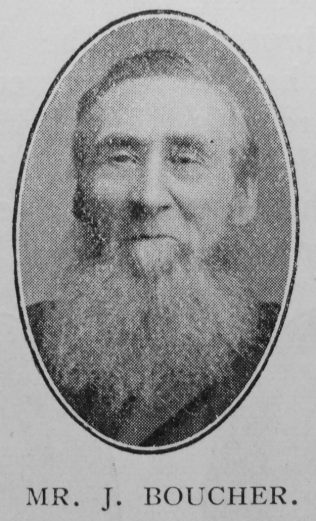 Transcription of obituary published in the Primitive Methodist Magazine by G.W.K.
The Jubilee Church, Aberdeen Walk, Scarborough, has suffered considerable loss by the decease on August 10th, 1911, of Mr. James Boucher, at the ripe age of eighty years. A son of the soil, he removed from Boston, Lincolnshire, to Hutton Cranswick, in the Driffield Circuit, when a youth. In 1856 the Spirit of God came with convincing power upon the Church and the village, and a large number of robust farm labourers were swept into the kingdom. Mr. Boucher, who was of the number, never wearied in talking about that revival, and the marvellous things done by God on the occasion. On the village green the new converts held frequent prayer and fellowship meetings, at which the stalwart figure, the strong voice, the definite and clear testimony of young Boucher made a great impression, and are vividly remembered by the few who survive him. 
In 1865 he removed to Scarborough, where first at our Sepulchre Street, then at our Jubilee Church, he rendered useful and effective service in the Sunday School for many years. Being of a retiring disposition, our departed friend never took a prominent part in the official life of the Church, but few men have given greater faith, higher spirituality, warmer prayers, and more thrilling Christian testimony than he. To hear him pray, to listen to his Christian experience, to watch his shining face in public worship were convincing proofs of the reality and joyousness of his religion. The Primitive Methodist Church has cause to be grateful to God for the like of Mr. Boucher—a man of beautiful character, of rich piety, and mighty in prayer and the Scriptures. 
A widow, four daughters and a son are left to wait with patience the glad re-union.
Family
James was born in 1830 at Bunker's Hill, nr. Boston, Lincolnshire, to parents Bartholomew and Ann. He was baptised on 5 December 1830  at Thornton le Fen, Lincolnshire.
Census returns identify the following occupations for James.
1851 agricultural labourer
1861 carter
1871 warehouseman
1881 warehouseman
1891 grocer's warehouseman
1901 grocer's warehouseman
1911 pensioned grocer's warehouseman
He married Ann Blanchard (1836-1871) in late 1860 in the Driffield Registration District, Yorkshire. Census returns identify two children.
John Edwin (1863-1907) – a grocer's van man (1901)
Edith (b1869) – a domestic servant (1891)
He married Mary Rowell (1845-1916) on 30 November 1872 at Scarborough, Yorkshire. Census returns identify five of seven children.      
Annie (1875-1941) – a confectioner's assistant (1901); married Edwin Snowdon, a hay & straw merchant (1911), in 1904
Polly (1876-1957)
Arthur (1879-1976) – printer & compositor (1901)
Harriet (b1882) – a dressmaker (1901); married Joseph Knight, a joiner, in 1907
Ernest (1886-1903)
James died on 10 August 1911 at Scarborough, Yorkshire.
References
Primitive Methodist Magazine 1911/994
Census Returns and Births, Marriages & Deaths Registers