Bryan, William (1824-1911)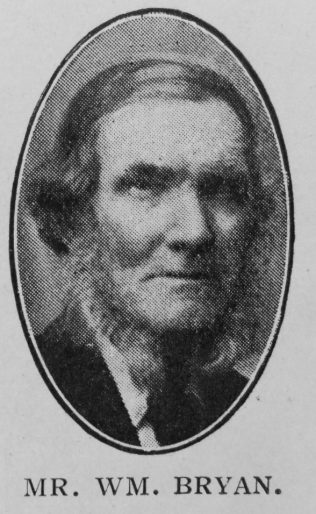 Transcription of obituary published in the Primitive Methodist Magazine by B. Fell
At the ripe age of eighty-seven years Mr. William Bryan peacefully passed away June 21st, 1911. He was born at Ness in the Parish of Neston, near Chester, on the 5th of January, 1824. In his early youth he gave himself to God and Primitive Methodism, and through all the years—seventy and more—he has had an honourable place in the Church he loved passionately and to which he gave ungrudging and unstinted service. Everyone was impressed with the sincerity and depth of his devotion. He was singularly generous for his means.
From his conversion to his marriage in 1848 he resided and worshipped at Ness. Then he removed to New Chapel in Staffordshire. There he found our people without a place in which to worship and straightway opened his house for the services and his home for God's messengers. For some years he resided at Sanghall, (Saughall) the home of his wife, then at Sandycroft, in the Buckley Circuit, and in 1867 went to Buckley itself, interesting himself in the building of chapels and sharing the responsibility of trusteeship. 
In January, 1878, his employment brought him to Crawford village, where his influence upon our Church life has perhaps been most fully realised. Though preferring the quiet places, he has at the call of duty acted as Society Steward and Class Leader with efficiency and success. A serious accident affecting his sight some twenty years ago compelled retirement, but his presence and influence have been an abiding benediction. His closing days were fittingly peaceful and happy. As fruit ripens and just falls off, so he fulfilled his day and died with mental faculties unimpaired and spiritual vision bright. His dust sleeps in the graveyard of the beautiful village of Sanghall. (Saughall) His spirit is with God.
Family
William was born on 5 January 1824 at Ness, Cheshire, to parents Thomas, a coal miner, and Margaret. He was baptised on 30 January 1824 at Neston, Cheshire.
Census returns identify the following occupations for William.
1851 coal miner
1861 coal miner
1871 collier
1881 coal miner
1891 coal miner
1901 no occupation – living with daughter Margaret
1911 retired coal miner – living with son, Reuben
He married Sarah Whitley (1829-1901) on 4 December 1848 at St Oswald, Chester. Census returns identify ten children.    
Ellen (1850-1939) – married Charles Snell, a bricklayer (1881), in 1877

     

Mary Ann (1852-1876)
Margaret (1854-1907) – married Ainsworth West, a cloth drawer in (1891), in 1873
Benjamin Whitley (1856-1878) – a labourer (1871)
Sarah Ann (1858-1914) – married William Bellis, a collier (1881), in 1878
Reuben (1860-1938) – a coal miner (1891)
William (1863-1899) – a coal miner (1891)
Prudence Whitley (1865-1886)
Emma (1867-1951) – married John Hughes, a coal miner (1911), in 1888
Thomas John (1869-1926) – a head teacher (1911)
William died on 21 June 1911 at Crawford, Wigan, Lancashire.
References
Primitive Methodist Magazine 1911/913
Census Returns and Births, Marriages & Deaths Registers