Bellis, Edward (1831-1922)
Of Buckley Circuit, Wales.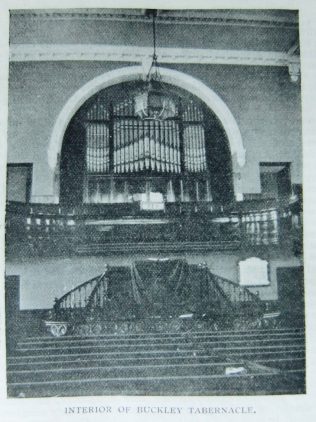 Transcription of Article in the Christian Messenger by J.P. (John Phillipson)
The topographical and historical surroundings of Buckley Station are full of interest and attraction; the twelve chapels named on the plan of the Circuit are all in the county of Flintshire, in North Wales. On the South-east of Buckley you look upon the 'Hope Hills'; on the west, Moel Fammau ('the mother of mountains') lifts her proud summit among her lesser children, two thousand feet above the level of the sea; Hawarden, (that Mecca of pilgrims from all parts of the world) lies some three miles to the east. Here may be seen the Castle, the home and many of the haunts of the late W.E. Gladstone, whose memory will be cherished for his great gifts, greatly used, as long as the Saxon tongue is spoken. On the west, three miles away, is the old Welsh town of Mold, where the famous landscape painter, Richard Wilson, was buried in 1782. Some nine miles eastward, on the banks of the river Dee, is the ancient city of Chester, where in old time the eagle banner of Rome floated, and the Roman soldier watched, from the city walls, his Celtic foe as again and again they came from the Welsh hills, to struggle with their alien invaders.
But it is not of the glamour of Roman history, with its romance, its imperial power, and the 'distance lends enchantment to the view,' that I would write; not of the conquests of arms, not of the progress of science, nor of changes made by telegraph and railways, or by education and a free press; peace has greater triumphs than war; the moral forces are mightier than the material; the noblest and most far-reaching results are found in the progress of Christianity.
Buckley is a long straggling town, of some nine thousand inhabitants. It is built upon what is called 'the Mountain.' To look at it as you approach from Chester, many of the ideals of John Ruskin are wanting; there is not the peace and unbroken union of nature, for the tall chimneys remind you that you are among busy toilers, by whom the famous 'Buckley fire-bricks' are made. The quiet retreat, the happy unions in nature, are pleasant to look upon, but the earth was made for man to possess and subdue, and where you have the altar-fire of toil and the altar-fire of worship burning, you have the two greatest factors that make men.
It is over sixty years since Primitive Methodism came to Buckley to stay. Before this it had been missioned by some of our early preachers, but the first chapel was built at Alltami in 1838. At that time Buckley was missioned by Chester, and was a part of the Chester Station until 1869, when it was made a branch, finally becoming an independent station in 1872. The first generation of workers have all passed away – noble, consecrated men, who, when wages were poor and journeys long, were often found on the Sabbath day walking from ten to twenty miles to preach the Gospel of Christ in the villages of Cheshire and Flintshire. I find among the many names cherished in the station, those of such men as Charles Price, clear-minded, methodical and faithful; Edward Davies, the father of Rev. E.A. Davies; John Roberts, the quaint, emotional Welsh preacher; Peter Kendrick, kindly, loyal to his church, mighty in deed and word; Edward Davies of 'The Mount,' who, though not a local preacher, was a devoted member and official of our Church for more than fifty years. Men like these have been the strength and stay of our Church, especially in the country stations, where the flux and change that largely affect towns and cities, are not so much felt. To men like these, who had strong faith, who nobly planned and achieved, we are indebted for such sanctuaries as the Tabernacle and the eleven smaller chapels in the station.
The Tabernacle (of which we give two illustrations), has been built twenty-five years, and will seat 800 people. It may be of interest to relate that about sixteen years ago, the late W.E. Gladstone spoke in the Tabernacle to an overflowing audience. He spoke on some of the aspects and needs of our national life, and one of our members who heard him, said afterwards, that as he listened to the mighty flow of his eloquence, he was not only carried from point to point in his address, but he felt also in it the throb of religion; 'in fact,' he said, 'it was a means of grace.'
It is interesting to find in our Circuit those who nearly unite in their lives the history of the Station. The subject of this sketch – Edward Bellis – whose portrait is given, can remember when there were only two chapels in the Circuit, and now there are – counting the chapels used for Sunday schools—fifteen. Our brother, who happily is still with us, was born at Penyfford in 1832, so that he is sixty-elght years of age; but he comes of a long-lived race. Both his father and mother were ninety years of age when the Master called them, and were devoted and consistent members of our Church up to the time of their death. They were both anxious to train their children in the right way – sending them to Sunday School, encouraging what was right in their young lives, and checking what was wrong – so that the memory of his early days still brings to him light and comfort.
Brother Bellis has not been caught in the current and drift of modern life, nor has he been a bird of passage; the little village of Penymynydd, where he now lives, and where his good wife and he ever extend hospitality to all our preachers, is within a short distance of the place where he was born. He has always lived in the pure air of the country; the voice of the wild hills of Wales has ever had a charm for him – they have spoken of freedom and God. The years have not laid heavy hands upon him, though the frost of time has slightly touched his hair. He is of medium height, with a well-knit frame, indicating great power of endurance. You mark the high forehead, revealing a generous nature – the well-balanced head, with ideality, faith, hope naturally high, and you discern in the kindly light of his brown eyes a spirit that looks out bravely and hopefully upon life.
He was not brought to a full consciousness of a religious life until he was twenty-three years of age. For years he had been under conviction of sin, seeking mercy, but to him it all seemed in vain. But at last, like Paul, he too found a light from heaven, a Damascus road on the highway of his native village, while he was silently meditating and praying by the way; his faith laid hold upon God, and he was brought into the liberty of God's dear children, and this knowledge has been his joy and strength ever since. He joined the first class ever formed in Penyfford, under the devoted leadership of Bro. Astbury. Brother Bellis was not long a member before his gifts of speech were recognised, and he was called to be a local preacher. Hundreds and thousands of miles has he walked cheerfully, so that he might lift up the standard of Truth and Redemption; and he has the joy of having led many sinners to the Saviour of men. A short time ago, I was visiting one of our members on his death-bed, and he told me, just a few days before his death, that some twenty-five years before, under the preaching of Edward Bellis, he was brought to see his state by nature, and what he might be by grace. Our brother makes no claim to be a great preacher, yet you find him well equipped; in his library you may see a sprinkling of Methodist theology – Matthew Henry's Commentary, etc., he has also taken our 'Large Magazine' for nearly forty years. He has a strong, musical voice, a ready utterance, good common sense, a thorough grip of the essentials of the Christian faith, and a quick and emotional temperament, hence there is no wonder that he was, in the strength of his days, and indeed to very recent years, in such great demand for camp-meetings, mission work and other evangelistic services.
He has had a great deal to do in the earlier and initial stages of the Societies of Buckley Station; he has helped to lay the foundation of most of the Churches in the circuit; he has done all that a faithful and loyal servant of Jesus Christ could do to foster and strengthen their life, and now he can rejoice in their growth and prosperity. A great believer in unity and peace, he has occupied most of the official positions in our Church – leader of the choir, superintendent of the school, class-leader and local preacher. Brotherly in spirit, social in disposition, helpful and generous, no meeting at Penyfford seems complete without him; he is respected by all classes. If l had to name one of the chief characteristics of Brother Bellis' life-work, it would be the great service he has rendered in the visitation of the afflicted and dying. He has been called at all hours of the night and day, and many a poor mortal, when the voyage of life was nearly over, has had a bright hope, a stronger faith in 'crossing the bar,' through our brother's counsel, sympathy and prayers.
Much more might be written to indicate the extent of his 'work of faith and labour of love,' but the above will suffice. The reader must recognise in him a devout Christian, a loyal member of our Church, a faithful worker in the kingdom and patience of Jesus Christ. I trust the afternoon of his life may have in it even yet, much of the joy of service, and that if spared to old age and the lengthening shadows of life's evening, he may have 'light.'
Family
Census returns identify that Edward was born abt 1831 at Mold, Flintshire, to parents Edward, a shoemaker, and Margaret.
Edward worked as a tailor.
He was married to Elizabeth (abt 1826-1874).
He later married Mary (abt1836-1922).
I have been unable to unambiguously identify marriage records to determine their maiden names.
Edward died on 7 February 1922 at Penymynydd, Flintshire.
References
Christian Messenger 1900/215
Primitive Methodist Magazine 1922/517
Census Returns and Births, Marriages & Deaths Registers