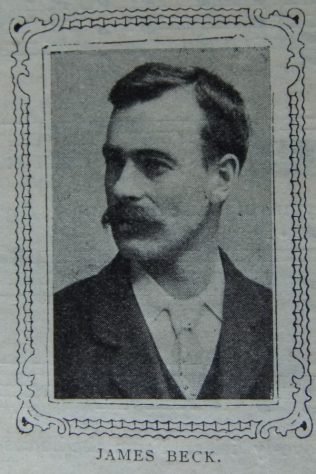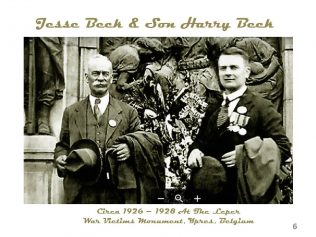 Transcription of 'Sketch' in the Christian Messenger
Sincerity is the fittest word with which to sum up the character of our friend. There is no make-believe or unreality about him, but entire freedom from false pretence.
In the discharge of his duties as Society Steward of the St Thomas Road Church (Derby Fourth Circuit) he is most unostentatious, being very modest and unassuming. He is trustworthy, and can be relied upon to be present at his post of duty.
His early days were not spent in Primitive Methodism, but for seven years he was a member of the church choir, his father belonging to the Established Church.
He was born at Abbots Bromley (Staffs), and had by no means an easy upbringing, often having to endure hardship.
After leaving home he attended some special services conducted by the late Mrs. Bosworth at the Central Church (Derby), where the arm of the Lord was revealed, and Bro. Beck, along with others, had his true condition brought home to him, and God for Christ's sake pardoned his sins.
Very soon Sunday School work was engaged in, then open-air mission work, and finally he was induced to qualify for the Local Preachers' plan, in which sphere of labour he renders excellent service. His sermons give evidence of careful preparation, and he has had many evidences of the power of prayer.
He is a zealous worker among the young, being superintendent of the Sunday school, president of the Band of Hope and also the C.E. society. In addition, he is a class leader, member of the choir, and has also served as secretary of the old trust.
T.S. BALL
Family and other information
I have not been able to identify a James Beck born in Abbots Bromley and later living in Derby in census records.
Could this have been Jesse Beck (1873-1935), a bricklayer?
Jesse was born in Abbots Bromley and married Fanny Harrison in Derby in 1895. He died on 14 December 1935 at the Derbyshire Royal Infirmary having lived at 33 Sackville Street, Derby.
Can anyone confirm this identification?
References
Christian Messenger 1910/319
Census Returns and Births, Marriages & Deaths Registers