Burrows, William Arthur (1872 - 1931)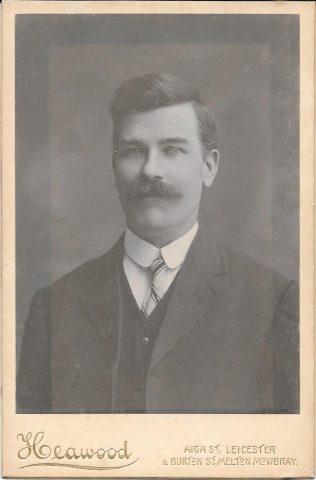 William Arthur Burrows (Bill) was born in 1872, in the Leicestershire parish of Keythorpe and Tugby, to parents Richard and Sarah (née Howkins). He was the sixth of their twelve children.
Richard and Sarah moved their family to Cosby, near Leicester, probably to find work in the shoe industry in the village. Bill worked all his life in one of the two shoe factories there.
Bill married Amy Burbage in 1894. They had four children: Cyril, Harriet Eva,  (see Christian Endeavour and Temperance -Band of Hope) Kenneth and Mildred.
Bill contributed in many ways to life in Cosby. He was a tall imposing figure, and his physical stature combined with a gentle personality fitted him well to his role as the village special constable. He was a member of the Parish Council for 21 years, and Chairman for 11 years. He served as a manager of the primary school, was a member of the Adult School and umpire at the local cricket club.
In 1905 he became Superintendent of the Primitive Methodist Sunday School, and the chapel treasurer, posts he held until his death from cancer in November 1931. He was listed as an auxiliary preacher on an early 1920s Leicester Second Circuit plan.
In 1922, Bill laid one of the foundation stones for the new Primitive Methodist Chapel in Cosby. (see Cosby PM Chapel, and Primitive Methodism in Cosby)  In the chapel there is a window dedicated to his memory. The inscription reads:
To the Glory of God and in memory of William Burrows who went to the homeland Nov 16th, 1931. Church Treasurer 26 years. Sunday School Superintendent 26 years. A true friend of little children.
This window was given as a token of love by his family and members of the church and congregation in recognition of his faithful service.
We give thee but thine own.
Bill's grand-daughter, our mother, was one of his Sunday School pupils. She recalls that his eyes were the same bright blue as the sky mentioned in his favourite hymn 'There's a friend for little children'.
Nance Clarke (née Gimson), who with her sister Rose were Sunday School pupils, wrote this tribute:
Mention must be made of our Sunday School Superintendent, Mr Bill Burrows. He was a kindly man, lover of children and we knew it and loved him. Words of mine can never express how much we all owe to him, not only in the Sunday School, but the whole village held him in high regard. He was respected by everyone.
So I would like to pay my tribute to one who influenced my life for good, and I feel I speak for many scholars of our Sunday School who knew him. He was a friend and truly a man of God.
Bill is buried in the 'chapel' area of Cosby cemetery, with Amy, who died in 1945.