Charlton, Jane (nee Hogg) (1862-1910)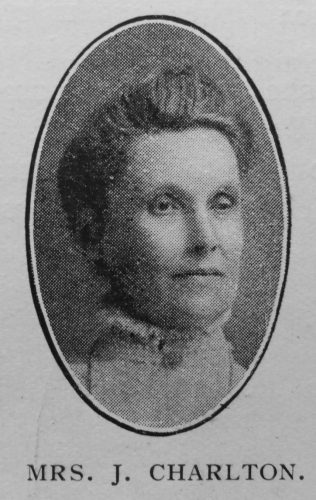 Transcription of obituary published in the Primitive Methodist Magazine by D.M. Bowman
After some weeks of ill-health, but somewhat unexpectedly, Mrs. Jane Charlton succumbed to goitre bronchitis on Nov. 10th, 1910, in her forty-eighth year. A Primitive Methodist of life-long connection, she was converted under the ministry of Rev. Henry Yooll when thirteen years of age; at fourteen became a Sunday School teacher, and at eighteen a local preacher.
Miss Jennie Hogg, as she then was, exercised her great gifts as preacher and evangelist throughout the Blyth Circuit and neighbourhood, with much acceptance, and at times extraordinary success. There is no doubt that the strain of incessant toil weakened her constitution. In late years, as her strength permitted, she spoke at Sisterhoods and similar gatherings, while for a short time she conducted a women's class at Westhouses.
Alfreton Circuit has suffered a great loss by her death. The interment took place on Nov. 14th.
Family
Jane was born in 1862 at Cramlington, Northumberland, to parents John, a coal miner, and Dorothy.
She married Robert Almond Charlton (1865-1940), a colliery mechanical engineer (1901), in the spring of 1893 in the Morpeth Registration District, Northumberland. Census returns identify two children.
Matthew (1893-1969) – a mechanical engineer's apprentice (1911)
Dorothy Grieves (1895-1985) – married David Harold Evans, a draper (1939), in 1918
Jane died on 10 November 1910 at Blackwell Derbyshire.
References
Primitive Methodist Magazine 1911/655
Census Returns and Births, Marriages & Deaths Registers