Coe, Susan (nee Fendly) (1825-1911)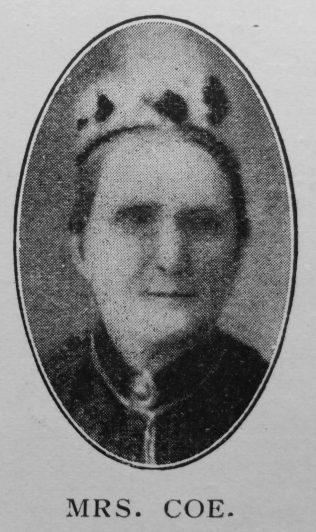 Transcription of obituary published in the Primitive Methodist Magazine by H. Semper
Mrs. Coe was associated for upwards of seventy years in unbroken membership with our London Road Church, King's Lynn. Her husband was one of the first trustees of the present sanctuary, and during its erection and for many years afterwards she worked and sacrificed for its prosperity. Left a widow with a young family, she bravely struggled to secure them a good upbringing, and not in vain, for her children rise up and call her blessed. Upon them she has left the indelible stamp of goodness. 
Her religious life was characterised by quiet and reverent devotion, and there was no question whatever concerning her loyalty to the Church of her choice. Through storm and stress she manifested her stedfastness, and according to her ability supported the several institutions of her beloved Zion. To the last she maintained an interest in the Church's welfare, and ever recognised her responsibility. The Church is grateful for her lengthened service, and her children are thankful to have had so good a mother. 
Her talents have not been wasted and her long life has not been lived in vain. From that life emanates an influence, which will be to her children and church associates an inspiration as they put forth effort to live the Christian life and perform Christian service. Some few months ago she removed from Lynn to Lowestoft to be cared for by her daughter, and after retiring to rest one night was taken ill, and in two or three days quietly entered upon the rest remaining for the people of God. Her mortal remains were interred in the Lowestoft Cemetery on Monday, January 23rd, 1911 the Rev. M. Robinson conducting the burial.
Family
Susan was born in 1825 at Watlington, Norfolk, to parents Benjamin, who worked the land, and Susanna. She was baptised on 18 December 1825 at Watlington.
The 1851 census return records Susan as housekeeper to Robert Coe.
She married Robert Rogers Coe (1803-1864), a butcher (1861) on 14 July 1851 at All Saints, South Lynn, Norfolk. Census returns identify five children.
William Rogers (1852-1926) – a corn, seed and wool merchant (1911)
Julia Fendley (1854-1917) – married Herbert Walter Barbor, a fish merchant (1901), in 1892
Henry Chapman (1855-1933) – a grocer shopkeeper (1901)
Frederick Carter (1856-1906) – a foreman fitter (1901)
Rachel Harriet (1858-1914) – a dressmaker (1881); married William Savage, an accountant (1891)
Susan died on 13 January 1911 at Lowestoft, Suffolk.
References
Primitive Methodist Magazine 1911/326
Census Returns and Births, Marriages & Deaths Registers
Note: Susan's baptism record is in the surname Fenley