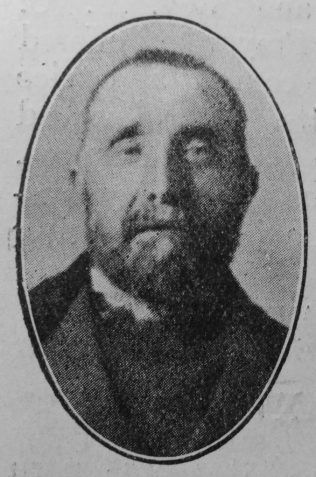 Transcription of obituary published in the Primitive Methodist Magazine by Thomas Dale
Eyemouth Church and Berwick Circuit have suffered a severe loss, in the tragic death of Mr. James Cowe. He was a fisherman, and on February 27th, fell overboard while proceeding to the fishing ground off the Longstone Light, Seahouses. No human eye witnessed the accident, it was not till an hour later that he was missed. Two of his sons were members of the same crew.
James Cowe a native of St. Abbs, was born in 1851. He married, in 1878, Helen Dougal, daughter of one of the leaders of the Eyemouth Church. At his death he had been a member of the Connexion for thirty years. No man was more respected and Joved among the Eyemouth fishermen than he. At the Memorial Service, Sunday, March 1st, the Rev. T. Dale fittingly said, Barnabas was a prototype of James Cowe. He was a good man and full of the Holy Ghost and of faith, Like Enoch he walked with God, he was not, for God had taken him. 
Family
James was born in 1851 at Coldingham, Berwick, Scotland, to parents Robert, a fisherman, and Catharine.
He married Helen Dougal (1853-1931) in the summer of 1878 at Eyemouth, Berwickshire. Census returns identify eight children.
Mary (1879-1954) – married Henry Collin in 1906
Robert (1881-1962) – a fisherman
George Dougal (1883-1960) – a fisherman
Catharine Rae (1887-1948) – married Rowland Binnall Goodwin, a PM minister, circa 1907
John Dougal (1888-1967) – a fisherman
Isabella (b abt1891)
Helen Dougal (1896-1978) – married John R Turnbull, a trawler engineer (1911)
Euphemia (b abt1900)
James was drowned at sea on 27 February 1908.
References
Primitive Methodist Magazine 1908/325
Census Returns and Births, Marriages & Deaths Registers