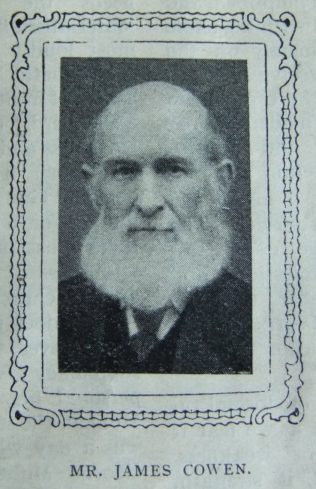 Transcription of 'Sketch' In the Christian Messenger
JAMES COWEN was born at Newfield, County Durham, sixty-eight years ago.
At the age of twenty-two he came to Darlington, joined Queen Street Church, and is one of the three living members who were on the roll of Queen Street when he joined. The other two are Mrs. Francis Heslop, and Mrs. Richardson, both saintly women, In Queen Street, Mr. Cowen had as ministers, Revs. J. Bastow, Henry Phillips, Thomas Greenfield and Hugh Gilmore. During Mr. Gilmore's ministry Greenbank Church was built and opened. Mr. Cowen was assistant Class leader and S.S. secretary in Queen Street, and became one of the first trustees for Greenbank Church. He is the only original trustee of the present trust. He has been a Class leader in Greenbank for twenty-eight years. Most of his members he trained as catechumen members and they have never had any other Class leader. It is not now a large class in membership, but it meets with the minister's class in which are over ninety members, and there Mr. Cowen wields a fine influence week by week. In the Circuit he is much revered. He is faithful in attendance at the Sunday and week-day services as well as the official meetings ; he is one of the kindliest and wisest of counsellors. His judgment is always most reliable. He is an expert in connexional law, but there is nothing of the red-tape character about him. He can hold his own, but it is always done with the most perfect good-humour. He is one of the senior members of the District Committee, but has only been once to District meeting and Conference.
Officials like James Cowen are pillars in the church.
Family and other information
James was born abt 1843 at Newfield, Durham, to parents John and Rebecca. John was a railway labourer (1851).
James commenced work as a colliery labourer, but, on moving to Darlington, became a railway signalman.
James married Margaret Hodgson (1848-1928) in the summer of 1872 at Darlington, Co. Durham. They had one child that died in infancy.
James died on 16 May 1917 at Darlington, Co. Durham.
References
Christian Messenger 1912/21
Primitive Methodist Magazine 1919/219
Census Returns and Births, Marriages & Deaths Registers