Chapman, John Osborne (1826-1891)
Of Cleethorpes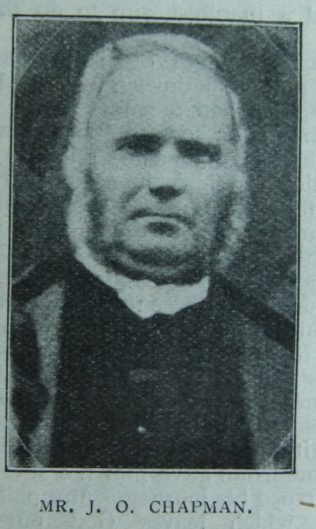 Transcription of 'Sketch' in the Christian Messenger written by Rev. R.W. Keightley in the series "Rough Diamonds I have met"
This "Diamond was "set" among the jewels of the King in heaven a little over fifteen years ago. Well do I remember the ravages of the influenza in the early spring of 1891. Eleven of us who should have been members of the Grimsby and Lincoln District Meeting were kept at home by la grippe. Among the stricken one was Mr. Chapman, and he recovered not, but was translated in the early days of May, at the age of sixty-five years.
The Cleethorpes Church has grown many strong men and not a few "characters." Among them Mr. Chapman held a conspicuous place. Being a native of Cleethorpes he had a "byname," as almost all the adults of the place had names they did not receive in baptism. "Jesse" was his local cognomen, but his first initial really stood for John. Everybody knew him by the former and very few by the latter name. Very peculiar is much of this nomenclature, and not a little puzzling to the stranger.
Mr. Chapman was not a rich man, but for many years he and his kindly wife enjoyed a comfortable competency, and for a long time they were the most "substantial" members of our prosperous church. Their home, "Osborne House," was ever open to our ministers and to the friends of Primitive Methodism generally, and a very generous hospitality was dispensed therein. As a local preacher, Mr. Chapman travelled many miles, and rendered excellent and successful service, while as the leader of a large class he was greatly appreciated and beloved. For most of our church properties in the Circuit he readily became a trustee. Both the Circuit and the District showed their confidence in him by sending him to the District Meeting frequently and to Conference more than once. In the public affairs of Cleethorpes he took a prominent part, and he was elected chairman of the, now defunct, Local Board. In politics he was power to be reckoned with, and during the greater part of his life Liberalism had in him an energetic and zealous spokesman.
Of educational advantages Mr. Chapman had very few, but of shrewd commonsense and sagacity he possessed a large share. To hear him in the pulpit, on the platform, or in animated conversation, was something to be remembered. He sometimes used long words not "made in Germany" nor found in dictionaries. In a political meeting he complained that Cleethorpes was insufficiently represented on the County Bench of Magistrates, and declared that unless an improvement took place they would have a stipendious magistrate. A case specially affecting his own Circuit was before the Conference of 1877. He would have his say on the matter. The President (Rev. T Smith) was asked to stop the vigorous speaker and replied. "I can't stop a tornado." Chatting with Mr. Chapman on his return home, when our talk was naturally of Conference, he narrated the incident, remaking, "The President said he couldn't stop a torpedo." In public speech, and only in public speech, his singular nouns had a habit of associating with plural verbs. No doubt this was his way of "rising to the occasion," and getting above the vernacular. He had a famous sermon on the "Living Water," the main divisions of which were thus expressed: "This water are divine in its origin; this water are beautiful in its effect; this water are abundant in its supply." But in the sermon there was the true Gospel note, and a manifest aim to do the people good.
Although a man of somewhat rough exterior and sometimes of rugged sppech, Mr. Chapman had a tender heart, and was very sympathetic toward sick and poor. More than one £5 has he put into my hand with which to relieve the needy and minister to the afflicted. Calls to such service sometimes came to him in dreams and visions of the night. On a certain Saturday night, prior to a country preaching appointment next day, he dreamed thrice that at a certain point of his journey he would meet a man to whom he was to give a sovereign. As he reached the place indicated the man was there – a man he had never seen except in his dream. The story told by the stranger was one of the most pitiful need and almost of despair. The Good Samaritan gave him the sovereign and then pursued his journey. Any philosophy of dreams which leaves God out is very inadequate.
Both the tenderness and severity of Mr. Chapman appear in the following incident. Preaching one Sunday at a certain village I know very well, the whole afternoon congregation, except a poor widow, left the chapel without asking the preacher to tea. The widow invited him to partake of her frugal fare. Perceiving that his hostess did not join him at tea, Mr. Chapman pressed her to do so, but without success. At length he discovered to his indignation that she had not enough food in the house for them both. When at the close of the evening service the people began to disperse the preacher said, "Ya may all stop, I want ya. Ya none o' ya asked me to tea this afternoon, and I went wi' this poor widow, and I ate all the food she had. Now go and get her some supper." His self-denying hostess did not lack a good supper that night, nor did the preacher ever lack offers of hospitality at that place again. But to the widow's house he always went and many baskets of good things found their way to her in after days.
In self-defence this tender-hearted man could adopt stern measures. Driving home from Louth one winter's night, after spending the day selling fish, two men leaped from the roadside, one of whom seized the horse's bridle, and the other attempted to enter the cart from behind, on robbery bent. "Ya'll get down" was Mr. Chapman's salutation. The man was unwise enough to persist. And with his hand grasping the top-rail of the tail-board he hung on. Not heeding the second peremptory order to "get down," a well-directed fish-knife descended upon his knuckles leaving two or three of his fingers considerably shortened. "Ya'll get down now," was the fish-seller's farewell.
Preaching at a great camp meeting when Peter was the subject of his discourse, Mr. Chapman referred to the Apostle cutting off the ear of the high priest's servant, and added, "I should have cut his heead off." Not at all unlikely! Half-measures were not much in his line.
Our friend was a loyal Primitive Methodist. Everything pertaining to the welfare of our Zion was of vital interest. He knew the Connexion well, and watched its movements with profound solicitude. He cheerfully gave his time, strength and money to promote the welfare of God's Jerusalem. The venerable and gentle Rev J. Hodgson said in his brief memoir of Mr. Chapman, published shortly after his decease, "His religion was not mere sentiment and emotion, but both practical and experimental. The Christian heart which rejoices in God and goodness was in him. His cheery and racy conversation will be long remembered."
Of such unpolished stones and gems God spake when He said, "These shall be Mine in the day when I make up My jewels."
Family and other information
John was baptised on 29 January 1826 at Grimsby, Lincolnshire. His parents were William Chapman and Hannah Osborne.
John worked as a fisherman and later as an oyster merchant.
John married Elizabeth Davis (abt1828-1895) on 27 May 1850 at Clee Old, Lincolnshire.
John died on 5 May 1891 at Cleethorpes, Lincolnshire.
References
Christian Messenger 1907/83
Census Returns and Births, Marriages & Deaths Registers