Cunliffe, Richard (b1839)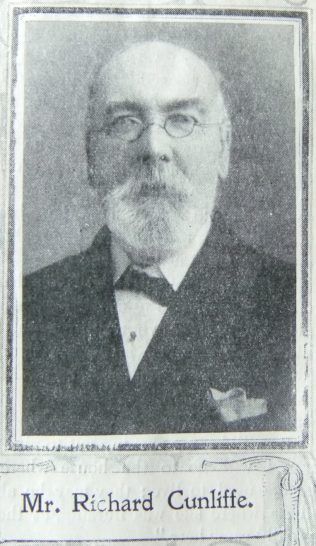 Transcription of Magazine 'Sketch'
Mr. Richard Cunliffe was born at Longton, near Preston, in 1839, and as scholar, member, and official, has maintained an unbroken connection with Primitive Methodism for sixty-five years. He came to Preston in 1850, became a member in 1856, and a local preacher in 1867, when Rev. J. Judson was superintendent of the Circuit. At that time the journeys were long, and the means of communication poor. Some of Mr. Cunliffe's pleasantest recollections of Christian work are associated with those arduous days, when as a member of the "Hallelujah Band" he saw scores of cases of conversion. He served the Sunday School as superintendent for twenty years, and has been Circuit Steward thirty years. His interest in Christian service, and love for the old Saul Street Church still abide with him, in the quiet eventide of life, after these years of true and faithful labour for the Church of his choice.
Family and other information
Richard was born in 1839 at Longton, Lancashire, to parents John and Mary. John was a cotton weaver.
Richard worked on the railways as a porter rising to become a railway goods foreman before retirement.
Richard married Susan Wallis Podger (abt1847-1911) in early 1885 at Preston, Lancashire.
References
Primitive Methodist Magazine 1909/608; 1911/575
Census Returns and Births, Marriages & Deaths Registers