Cook, Thomas (1802-1850)
Introduced Primitive Methodism into Hetton-le-Hole, Co. Durham, and an early missionary worker in America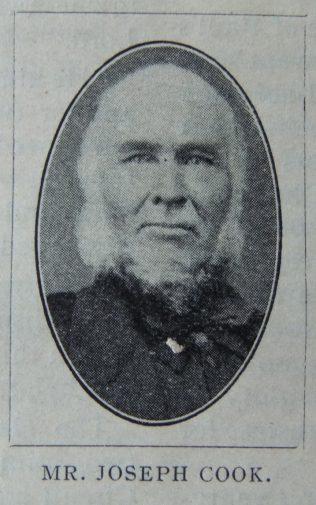 Transcription of 'Sketch' in the Christian Messenger by Rev. Robert Walton
A Forgotten Worthy
The history of human life is a very interesting and helpful study, especially if it is the history of a good man. But even among good men there are some who have a greater claim upon our consideration than have others, because they are associated with, or are the beginning of, a movement which has been fraught with great good to their fellow men. Occasionally such lives are forgotten, and only by mere accident are their names and labours restored to human notice.
The record of such a life has just been found. Rummaging among some old papers belonging to the late Joseph Cook, viewer of Whitworth Colliery, Co. Durham, who died in the year 1875, aged 75 years, his nephew, Mr. Joseph C. Surtees, discovered a piece of information which was altogether unexpected, and of some interest and value. It is touching Thomas Cook, who, with his brother Joseph, was one of the founders of Primitive Methodism in Hetton-le-Hole.
The Hetton Circuit is among the strongest and most influential of our stations, so that Thomas Cook did work of immeasurable good when he began services there. He was born at the Felling, near Gateshead, in the year 1802, and only three years after Hugh Bourne's conversion. There was no indication in young Cook's conduct of any religious inclination until he was sixteen years of age, and this was brought about in a simple yet remarkable way.
At that period a singing school was opened at North Shields, and as he began to attend as one of the singers, and was induced to go to the means of grace, he was not long before he gave signs of a desire for a better life. Some of the members noticed his steady, upright deportment, and invited him to the Class meeting, which invitation he gladly accepted, and he became a member of the Independent Methodist Society.
So much did he adorn the doctrines of Christ that he was appointed a leader of one of the Classes, which office he held until the year 1823, when he with his parents removed to High Downs, near Hetton-le-Hole. At that time there was no Primitive Methodist in the neighbourhood, although Mr. Thomas Simpson had previous to that preached in Hetton, but did not found a Society. No sooner had young Cook and his brother Joseph arrived at the place, and seen what an extensive field there was for labour than they decided to enter it, and do a bit of mission work for Jesus. The Independent Methodists had no cause anywhere near, and as the Primitive Methodists were becoming well known, and establishing missions wherever they could, Thomas threw in his lot with them.
On the Sunday following their arrival – April 7th, 1823 – the two brothers, together with Mr. Thomas Dakers, who had arrived at the same time, held their first Class meeting. It was a small beginning as only three of them were present.
"Joseph Cook, who had been a member and leader among the Primitive Methodists In the North Shields Circuit was appointed leader of the Hetton Class. Their next step was to write to T. Nelson to come and preach amongst them and form them into a Society. This he did, and soon the members so increased that it was necessary to form a second Class, and Thomas Cook was made leader. Shortly after this he was put on the Preachers' plan as an Exhorter, and so creditably did he perform his duties, that in due time he was raised to "full plan." But we are given to understand that "he always considered he was not efficient to fulfil such an important office as a minister of the Gospel; so much so, that at one time when called upon to occupy the pulpit in Hetton Chapel, he was led to exclaim that he knew nothing about sermonising, but 'bless God, I can talk to you about the love of Jesus Christ.'"
His character and anxiety about the salvation of others are finely delineated.
"He always showed a willingness to do what he could to extricate his fellow men from the grasp of the devil. His constant and regular attendance at the means of grace was remarkable, and his life as a Christian, a Class leader, and local preacher was beautiful to behold." Thoroughly devoted to God and a firm believer in divine guidance he consulted God in all the affairs of his life, and steadfastly refused to take any step unless he was convinced it was favoured by God.
"Frequently he would say he had an impression that it was the will of God that he should remove to some foreign country, but as frequently would he observe that he would be guided by the spirit of God, and would rather choose to die than that he should grieve the Lord. Often did he lay the matter before the Lord in faithful prayer, and ask to be directed by the Holy Spirit.
"The answer seemed to come to him that he must go to America, as the Lord had work for him to do there. So on the 6th of April, 1829, the sixth anniversary of the day when he went to Hetton Downs, he with his wife and two children and three or four friends started for America."
The scene at parting reminds one of Paul's farewell with the Ephesians. "All wept sore, greatly sorrowing that they should see each other's face no more; "the reason being that "Hetton Society experienced the loss of one of the most affectionate and upright Christians, who was faithful in the discharge of all his duties as it preacher and leader and in reproving sin wherever he saw it, and so humble that he was willing to be either a hewer of wood or a drawer of water, if only he could promote the welfare of his fellowmen and the glory of God." He was one of the original trustees for Hetton Chapel.
After his removal to America he for twenty-one years carried on a regular correspondence with his brother Joseph "and in every letter he gave the state of his religious experience which was always rich and hopeful, and told of the good work he was trying to do for his Lord. His confidence in God increased in strength with the increase of his years, as also did his attachment to the Saviour, and often did he exhort his brother to live to God, as he had fully proved that godliness is profitable unto all things."
"In his last letter he mentioned a severe trial of affliction which he had been passing through. His wife and three children were stricken with illness and nothing but death was anticipated, yet he could praise God for His grace and promises. His wife and the two oldest children were restored, but the youngest died."
Speaking of this event, he said, "The Lord has taken the one whom He thought we could best spare. The Lord gave and the Lord hath taken away. Blessed be the name of the Lord."
"He himself was always healthy and strong, and for twenty years of his American life he never needed a doctor, but on December 16th, 1849, he was seized with inflammation of the lungs and pleurisy, and died on January 6th, 1850 aged forty-seven years."
Such was the man who introduced Primitive Methodism into Hetton. His work remains, and in this Centenary year of the Connexion, it is helpful to be reminded of such a person.
The Hetton Circuit has 509 members and two ministers, and the Houghton-le-Spring Circuit has two ministers and 537 members.
Family and other information
Thomas was born on 3 October 1802.
Thomas was buried at Rickardsville, Dubuque County, Iowa. He supported himself and his family working as a farmer whilst in America.
References
Christian Messenger 1910/347
U.S., Federal Census Mortality Schedules Index, 1850-1880
U.S., Find a Grave Index, 1600s-Current