Davis, Emma Caroline (1859-1911)
'Sister Annie'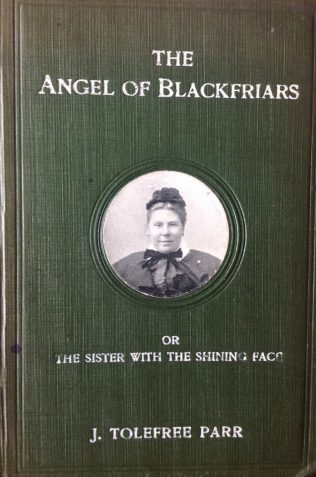 Family
Emma, or 'Sister Annie' as she became known, was born on 15 April 1859 in Glasshouse Yard, Aldersgate Street, London. Her father, David Frederick Davis, was a wine merchant's porter, or cellarman, which was ironic given her lifelong commitment to the temperance movement. Annie herself was a staunch teetotaller and member of the British Women's Temperance Society.
About 1862, the family moved across the River to Bermondsey, where her two sisters were born. Their mother Mary Ann (nee Pitchfork) died in 1867, at the age of 33. Emma was 8, and her younger sisters Mary (5) and Jane (1). Her father soon married again, and the family moved to Rotherhithe. Here Emma and her sisters were sent to the Primitive Methodist Sunday School.  Her Bible Class teacher, Annie Moore (later Mrs Tough), took a great interest in her and encouraged her 'to be useful in the world'.
Emma was converted at a class meeting, and soon became a Sunday School Teacher herself.
Starting work
When she left school at the age of 13, Emma became a domestic servant, but because her hours prevented her from attending Sunday School, she left and became a Book Folder, as were her sisters, mother and aunt.  She  later moved to become forewoman at Bible House and took rooms in Stamford Street, Blackfriars Road.
Sister of the People
When J Tolefree Parr, came to the Surrey Chapel in 1893, he decided that the most urgent need was to employ a 'Sister of the People' to work with the poor of the area.  This was a first for the Primitive Methodist Church, and having raised the money he had to consider who to appoint. When the Samaritan Committee met, every single member though that Emma Davis should be invited. It was pointed out that 'she had for years devoted all her spare time and cash to the work of ministering to the sick and dying poor.'
When she was asked, Emma was overcome, because this was just the work to which she had always felt called. 'A fortnight later, at a Public Ordination Service, she was solemnly dedicated to the work of the Sisterhood'. Wearing a simple Sister's costume, this was the start of an exhausting 17 years of ministry among the very poorest and most needy families in this area of London.  She died in March 1911.
Gift of Prayer
She had a remarkable gift of effective public prayer. 'It is an incalculable loss to the Churches that the voices of godly women are now so seldom heard in church prayer meetings. In its earlier history our denomination was particularly rich in its praying women; women who, to use a phrase well understood among us, "could rise into faith" in their public intercessions, and "bring the power of God down upon a meeting."
'Her intercessions were tender, fervent, full of felicitous scripture phrases, and marked by that reverent intimacy which is only born of the daily practice of the presence of God.'
The Angel of Blackfriars
After her death a marble tablet was placed in the Chapel to her memory:
'In loving and grateful memory of Sister Annie. For seventeen years Sister of the People. Entered into rest March 1st 1911. Strong in faith, radiant in disposition, tender on sympathy, faithful in counsel, untiring and utterly unselfish in labour, she lived and died for the poor.'
J Tolefree Parr wrote the story of her life, which was sold to raise money for the Sisterhood and Samaritan work of the Mission.  It is an inspiring story of a remarkable woman.
References
J Tolefree Parr, The Angel of Blackfriars or The Sister with the Shining Face, London (1912)