Denton, Elizabeth (1827-1912)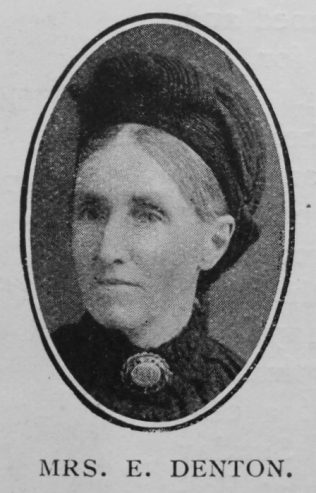 Transcription of obituary published in the Primitive Methodist Magazine by R. Heppenstall
Mrs. Elizabeth Denton was born at Walbottle in 1827, and died at Blazdon on the 27th January, 1912, in the eighty-fifth year of her age. Her mother was one of the best known Primitive Methodists on the Tyneside, and on removal to Leamington took a leading part in the work of that little society, her home being a preachers' home. 
Mrs. Denton had a very vivid recollection of hearing Hugh Bourne speak at a missionary meeting at Leamington when she was a girl, and she recalled with great interest a visit to Nelson Street Chapel, Newcastle, to hear William Clowes preach. She could tell many interesting stories of the early preachers.
For many years Mrs. Denton had lived at Blazdon, where she regularly attended preaching services and class meetings until prevented by advancing age. Two of her sons were earnest workers, one a local preacher, and it was a great grief to her to lose both these promising sons by death. 
Mrs. Denton was held in very high esteem by all who knew her, for they recognised in her a sincere Christian—humble and loyal to Christ and His Church. Her temperament was calm, her words were few, her character beautiful and sweet, and her consciousness of the saving grace of Christ strong. Religion was not so much a creed with her as an experience rich, deep and full. She was fond of meditation and prayer, and fed her soul on God's word. 
After a short illness she entered into the rest "that remaineth for the people of God." On the day of burial a short service was conducted in the house by the writer before proceeding to Newburn churchyard, where the interment took place.
Family
Elizabeth was born in 1827 at Walbottle, Northumberland, to parents John, a waggonman, and Mary. She was baptised on 15 April 1827 at Newburn, Northumberland.
She married Ralph Denton (1823-1896), a glass maker, on 21 August 1847 at Newburn, Northumberland. Census returns identify six children.
Ralph (1852-1879) – moulder (1871)
Isabella (1855-1948) – married John Elliott, a station master (1891), in 1877
John (1857-1884) – a moulder (1871)
William (1859-1926) – an iron founder (1911)
Robert Robinson (1861-1922) – an iron foundry foreman (1911)
Joseph (1864-1936) – a furniture dealer (1911)
Elizabeth died on 27 January 1912 at Blaydon, Co. Durham.
References
Primitive Methodist Magazine 1912/410
Census Returns and Births, Marriages & Deaths Registers
Note: The obituary prints Blazdon instead of Blaydon.