Durham, Richard (1863-1950)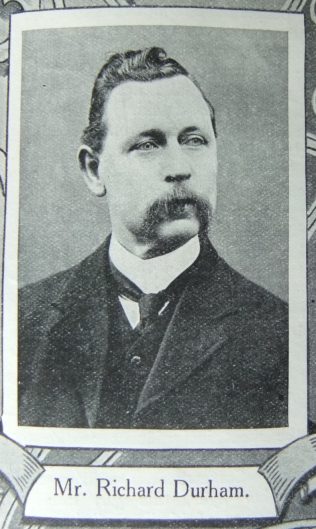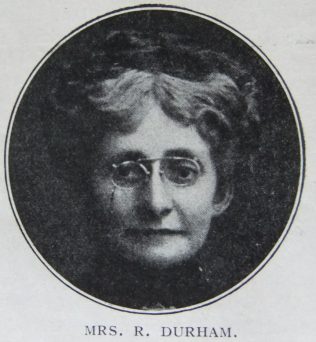 Transcription of Magazine 'Sketch'
Mr. Richard Durham, though still happily in his prime, has been for 28 years a member of our church, and from the first has been a toiler. During the time that the late Rev. Hugh Gilmore exercised his well remembered ministry in the iron chapel which preceded the present commodious church in Fylde Road, Mr. Durham was Secretary of the Sunday School, in which he has always taken the deepest interest, and of which he now holds the Superintendency. In the same school he has been in turn Librarian, Organist, Treasurer, and Labourer in the Band of Hope. For a long period he was Church Steward, and for 14 years Secretary of the Trust Estate; this office he only laid down to accept that of Treasurer to the same estate. A consistent Christian gentleman, and loyal Primitive Methodist, with a kind heart and helpful hand, like his parents before him, he has contributed a large share of work in making Primitive Methodism what it is in Preston.
Family and other information
Richard was born in 1863 at Preston, Lancashire, to parents Samuel Durham and Hannah Ayres.
Samuel, a coal dealer, was an active local preacher, and he filled almost all the Circuit offices open to a layman. Hannah was a sister to Rev. Robert Ayres.
Richard had little schooling and added to his education by taking night classes.
Richard worked as a coal merchant.
Richard served on Preston Town Council and was a member of the Board of Guardians. He was the first Primitive Methodist to be elected without opposition to a seat on the Preston Town Council.
Richard married Esther Garth (abt1863-1905) in the summer of 1886 at Preston, Lancashire. Census returns identify seven children.
Hannah (1887-1980) – married Rev William Norcross, a PM Minister and missionary, in 1913
Janet (1889-1921) – a school teacher (1911); married Thomas Arthur Kellett, a local authority clerk (1921), in 1914
Esther (1893-1928) – a confectioner's apprentice (1911); married John Baxendale, a theological student (1928) in 1927
Richard (1895-1973) – a clerk (1911)
Ivy (1897-1993) – married John Henry Worrall, a coal merchant, in 1923
Constance (b1901)
Samuel (1903-1975)
Richard married Betsy Alice (1868-1948) in early 1907 at Bolton. Census returns identify one child.
Joyce (b1908) – married Albert Ernest Whittall, a local government officer (1950), in 1934
Richard died on31 August 1950 at Ashton-on-Ribble, Preston, Lancashire.
References
Primitive Methodist Magazine 1910/610; 1914/893
Census Returns and Births, Marriages & Deaths Registers