Eudall, Deuey (nee Green) 1821-1901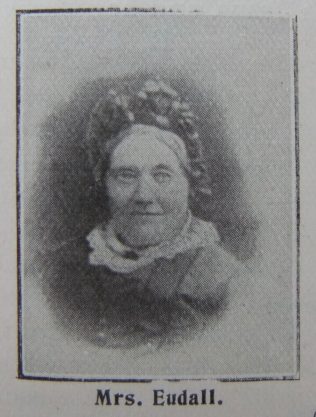 Transcription of Obituary In the Primitive Methodist Magazine by R. Evans
Mrs. Deuey Eudall, widow of the Rev. George Eudall, passed to her reward on Thursday, March 14th, 1901, at the ripe old age of 79 years. By her death another link in the Connexion's history has been removed. She was the eldest daughter of Mrs. J. Hillier Green, farmer, of Hurstbourne Tarrant, Hampshire, and in the springtide of life began to serve her Lord. To quote her own words, "I was converted before I was fifteen, in a-love-feast held at St. Mary Bourne. A heavenly peace took possession of my heart and a great and intense desire to do good, and to see my friends and acquaintances saved was my earnest prayer to God at that time." In the seventeenth year of her age her name appeared on the preaching plan of the Andover Circuit. About this time Primitive Methodism in Hampshire and adjacent counties was visited with most violent opposition and persecution, to which our sister was often exposed, but which never made her shrink from carrying on God's work. In the year 1841, she left her home to supply the place of a minister, who was obliged to give up on account of ill-health, and the following Conference appointed her to the Romsey branch of the Andover Circuit, and had the happiness of seeing many precious souls saved, and God's work revived. During the early years of her Church life she was brought into close contact with our pioneer preachers; she was never happier than when rehearsing pleasant reminiscences of Revs. Hugh Bourne, J. Ride, G. Price, G. Wallis, S. West, S. Turner, and many others, whose persevering labours were crowned with abundant success. She used to relate how on one occasion when our "venerable founder" visited Andover for special sermons in 1843, he was announced to preach morning and evening, and our sister in the afternoon. She felt it a great cross, as Mr. Bourne was present. He offered the first prayer, which banished all her fears, and a gracious influence pervaded the meeting. In the evening she was requested by Mr. Bourne to assist him by giving out his hymns and reading. He preached a powerful sermon on the Judgment Day. It was a service never to be forgotten.
In the year 1852 she was united in marriage to the Rev. George Eudall, and during the many years of her married life, shared in the toils, persecutions, and joys of a ministerial career, proving herself a faithful helpmeet to her husband in opening up new missions, and extending God's work among men. Fluent and eloquent in prayer and as a speaker, her services were much sought after for special occasions. In July, 1876, Mr. Eudall superannuated and settled down at Basingstoke, but owing to advanced age and increased infirmities the last few years of their life were spent in the home of their only daughter and son-in-law, Rev. M. Trevethick, and were enabled to attend the means of grace whenever health permitted. In January, 1900, her beloved partner was taken home to his reward, full of joyful anticipations of a glorious immortality. She was spared to accompany her dear daughter and husband to Leighton Buzzard in July, 1900, and permitted to attend the services of the sanctuary occasionally. The class meeting to her was always a special means of grace, and on Sunday, February 24th, she went to her class for the last time. The glorious influence which pervaded the meeting will not be readily forgotten by those present, who were all made glad by her presence with them. In the following week she was taken ill, which illness, though brief, was most severe. During intervals of ease she was full of joy and longed to go to her Saviour, and to meet loved ones gone before. Many friends visited her, whom she exhorted to work faithfully and continually for the Master, and not to grow weary in well doing. She was able to say, "The Lord has abundantly blessed me in the great work, and it has afforded me the truest pleasure to see sinners come to Jesus, and join His Church below. His word is very precious and sustaining and His promises are sure. O, the thought of re-union with our dear old friends, never to part again! Precious thoughts to me. I know in whom I have believed, and that He is able to keep that which I have committed to His care even to the last; but all my appointed time will I wait until my change comes." After intense suffering she entered into rest early on Thursday, March 14th, full of days, ripe in grace, ready for the garner of her Lord. On the following Monday her remains were interred in the Leighton Buzzard Cemetery. Prior to this, however a most impressive service was held in our North Street Chapel, conducted by the Rev. R. Evans, of Gravesend, assisted by the Revs. G. Hunter, of Stewkley, and T. Reeve, of Leighton Buzzard. Mr. Evans delivered an address in the chapel, and also read the burial service at the grave. Large numbers of friends, by their presence, showed their respect both for their minister and for the deceased, verses of the hymn, "Shall we meet beyond the river?" being sung at the graveside. As an expression of sympathy and love, the members of the Church presented a beautiful wreath of lilies, which was placed on the coffin. On Sunday, March 31st, the Rev. R. Evans preached in the North Street Chapel, and in the evening conducted a memorial service. Taking as his text Psalm cxvi. verse 15, he made special reference to our departed sister's early conversion and usefulness, and urged the many young people present to consecrate themselves to the service of God. At the close the Sacrament of the Lord's Supper was administered to a large number, who felt it a season of refreshing coming from the presence of the Lord.
Our dear sister has reached the end of a most devoted and useful life, in which she gave marked evidence of her intense loyalty to our Church. Nothing gave her greater joy than to hear of the prosperity of the Connexion and conversion of souls. Her name will long be green in the memory of all who knew her. The impressions made upon them will remain a living influence in their experience that will stimulate public life and make Heaven more attractive to them who loved her, by the anticipation of joining her glorified spirit before the throne of God and the Lamb.
She is gone to be with Jesus, and her works follow her.
Family
Deuey was baptised on 3 June 1821 at Hurstbourne Tarrant, Hampshire. Her parents were John Hillier Green, a farmer and wood dealer, and Priscilla.
Deuey married George Eudall (1810-1900) in early 1852 in the Andover Registration District, Hampshire. Census returns identify one child.
Elizabeth Deuey (1853-1951) – married Mark Trevethick, a PM Minister.
References
Primitive Methodist Magazine 1902/627
Census Returns and Births, Marriages & Deaths Registers
Note: The name Deuey is also spelt Deney and Dewey in records