Fielding, James (1831-1907)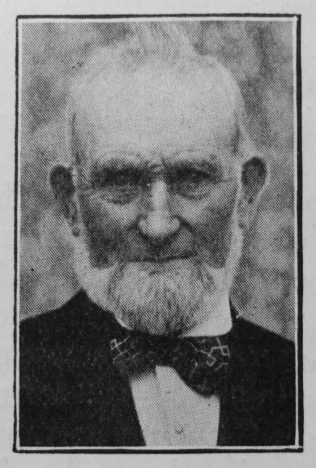 Transcription of Obituary in the Primitive Methodist Magazine by W.S. Barrett
Mr. James Fielding, the beloved steward of Blackburn III., entered into rest February 18th, 1907. A pioneer of Primitive Methodism in his native town of Great Hurwood, his death removes a landmark in the history of our cause there. Converted at Tottlewood when nineteen, he at once gave himself to the work of God, and for fifty-six years laboured with steady zeal for the cause. He filled nearly every office except that of local preacher. He founded the Sunday School at Great Hurwood, and his chief work was done there. He was superintendent with brief intervals till his death, and won the devoted affection of both teachers and scholars.
Deeply pious, religion was the most real factor of his life. He cultivated constant fellowship with the Divine, and fed his soul with the manna of the word. Delighting in public worship he was always punctual, and a responsive and sympathetic hearer. Though unostentatious he was a generous giver, and regarded giving as part of his religion. As an official of the church he has left an inspiring example of fidelity, devotion and zeal. He gave to the ministers loving and loyal co-operation, and above all offered unceasing prayer on their behalf. A true leader, a staunch friend, a loyal colleague, his interest and enthusiasm in the work of the church remained unquenched to the end, and he bore the burden of the church's welfare on his heart to his last hours on earth. 
The grace of God never shone more brightly in him than in the last few months of weakness. "He is preparing me," he remarked once. The Master had prepared both the upper room for His servant, and His servant for the upper room. "He walked with God, and was not, for God took him." At the memorial service the writer paid a warm tribute to the noble, strenuous life of our now sainted and ascended friend.
Family
James was baptised on 25 September 1831 at St Bartholomew, Great Harwood, Lancashire. Only his mother Ellen is identified.
Initially James worked as a cotton weaver, but after his marriage became a grocer.
He married Alice Duckworth (1832-1909) on 5 December 1852 at Great Harwood, Lancashire. Census returns identify five children.
William Rowe (abt1854-1926) – a schoolmaster; headmaster in 1911 and also running a grocery & confectionary business
Jonathan Tuton (abt1858-1930) – a schoolmaster (1911)
Ellen Ann Tuton (1863-1979)
Elizabeth Alice (b1868-) – a cotton winder (1891); married James Bell, a coal agent (1901), in 1892
James Albert (abt1872-1957) – a cotton weaver (1907); a paper & paper bag merchant (1911)
References
Primitive Methodist Magazine 1907/827
Census Returns and Births, Marriages & Deaths Registers