Foulger, George John (1879-1916)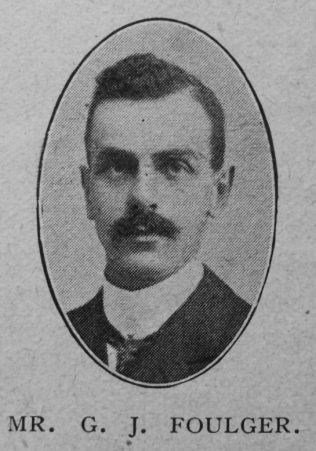 Transcription of obituary published in the Primitive Methodist Magazine by F.G.S.
Our Thetford Church has suffered a severe loss by the death, of Mr. G.J. Foulger. He was a life-long and devoted Primitive Methodist, and a capable and trustworthy official. We anticipated that many years of fruitful service were awaiting him in the Church below, but God has called him to the service above. After a usual day's work he suddenly passed away on May 16th at the early age of thirty-six years. 
Mr. Foulger filled many positions of trust in his native town, and was greatly esteemed. The most responsible positions in our Church were entrusted to him, and he discharged his duties with great ability and fidelity. He was beloved by all, and the entire Church mourns his loss.
Amidst many manifestations of sympathy he was laid to rest in the Thetford Cemetery. For his gentle life, abiding influence, and effective ministry we give God thanks. We know that for him "to die was gain." For his mother and widow and two little boys the deepest sympathy is felt. Their hope and assurance is in "our Saviour Christ Jesus, Who abolished death, and brought life and incorruption to light through the Gospel."
"Only good-night, beloved, not farewell."
Family
George was born on 3 December 1879 at Thetford, Norfolk, to parents George Foulger, a Co-operative store manager (1901), and Anna Smith. he was baptised on 11 April 1880 in the Walsingham Methodist Circuit.
Census returns identify the following occupations for George.
1901 clerk
1911 manager of sole leather tannery
He married Emily Minnie Jackson (1884-1971) in the spring of 1910 at Thetford, Norfolk. Census returns identify two children.
Harold George Jackson (1912-1995)
John Athelstan (1914-1997)
George died on 16 May 1916 at Thetford, Norfolk.
Emily married William Edwards Hooper, a customs & excise officer (1921), in 1918
References
Primitive Methodist Magazine 1916/859
Census Returns and Births, Marriages & Deaths Registers