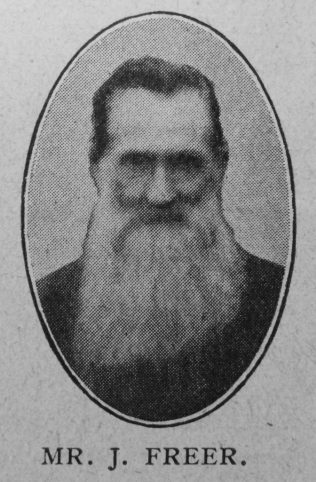 Transcription of obituary published in the Primitive Methodist Magazine by G. Freeman
At the time of his decease, at the age of seventy-two, Mr. John Freer, of Ampleforth, Helmsley Circuit, held the offices of local preacher, trust treasurer, class leader and Sunday school superintendent. 
After some thirty years of faithful and  devoted service at Ampleforth, where he joined our Church, he was translated to the higher service on November 25th, 1915, his mortal remains being committed to the grave in the local churchyard two days later by the Vicar (Rev. A.G. Austen) and Rev. G. Freeman amid many manifestations of sympathy and respect by his fellow members and relatives. Our deceased brother will long be missed in our village church.
May the blessing of the divine Father be continually upon the widow and the up-grown children who mourn so great a loss.
Family
John was born in the spring of 1842 at Slingsby, Yorkshire, to parents John Freer, a tailor (1851), and Ann Snowball. He was baptised on 19 June 1842 at Slingsby.
Census returns identify the following occupations for John.
1851 scholar
1861 tailor
1871 tailor & draper (master)
1881 tailor & draper
1891 tailor
1901 cow keeper
1911 tailor and cow keeper
He married Judith Elizabeth Goodwill (1838-1919) on 12 August 1865 at Slingsby, Yorkshire. Census returns identify four children.
John Thomas (1869-1942) – tailor (assistant) (1911); market gardener (1921)
George Goodwill (1872-1919) – a tinplate worker (1911)
Frances Ann (1875-1945) – married Robert Brentley, a horse keeper (1901), in 1898
Mark William (1878-1900)
John died on 25 November 1915 at Ampleforth, Yorkshire.
References
Primitive Methodist Magazine 1916/561
Census Returns and Births, Marriages & Deaths Registers