Graham, Sarah Ann (1842-1915)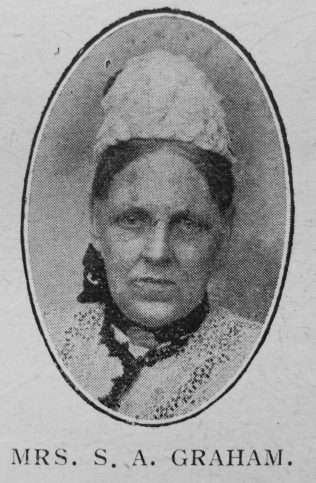 Transcription of obituary published in the Primitive Methodist Magazine by J.R.T.
Mrs. Graham was for many years a valuable and faithful worker in the John Street and Abbeydale Circuits, Sheffield. Her father was the late Rev. John Hirst, a pioneer of our Church, and her mother, who was of Quaker origin, was one of the sanest and saintliest of women. Greatly enriched by the gracious influences of her home life, our sister early surrendered to the claims of Christ, being converted at the age of fourteen years in Wellgate Chapel, Rotherham. 
For sixty years she was loyal and devoted to her Lord, full of good works, proving her devotion by a life of Christian fruitfulness and beauty. Her husband was the superintendent of the Sheffield City Mission, and Mrs. Graham was ever ready to aid and encourage him in his earnest endeavours to evangelise the lost and needy souls for whom he laboured so diligently. An acceptable and a capable local preacher, and, as opportunity offered, a special mission worker, our sister often saw "the arm of the Lord" made bare, and rejoiced greatly in the return of the wanderer to God. 
It was her joy and pride to have been privileged to give a son—the Rev. T. Graham—to the ministry of our Church.
"She rests from her labours, and her works follow with her."
Family
Sarah was born in the summer of 1842 at Boston, Lincolnshire, to parents John Hirst, a PM minister, and Ann Hopkinson Howson.
She married William Mullins Graham (1837-1906), a town missionary, in the summer of 1863 at Sheffield, Yorkshire. Census returns identify eight children.
John William (1864-1908) – an insurance assistant superintendent (1901)
Thomas (1867-1959) – a PM Minister
Frederick Henry (1870-1922) – a house painter
Ada Mary (b1874) – married John Peat, a colliery engine winder, in 1896
Florence Annie (b1876)
Emily (abt1878-1973) – married Harry Wood, a restaurant cook (1911), in 1901
Isabel Robson (1881-1968) – married Walter Booth, an engineering fitter, in 1906
Sarah Ellen (b1886) – married George William Smith, a teemer in crucible steel (1911)
Sarah died in late 1915 at Sheffield, Yorkshire.
References
Primitive Methodist Magazine 1916/331
Census Returns and Births, Marriages & Deaths Registers