Green, Lady Mary (1840-1915)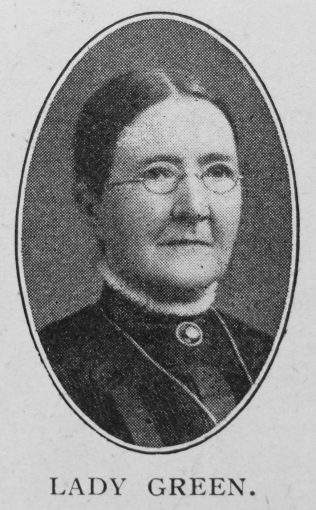 Transcription of obituary published in the Primitive Methodist Magazine by W.G.
After protracted suffering, Lady Mary, the beloved and devoted wife of Sir George Green, passed to her rest on June 4th, at the age of seventy-five years. A native of Stockport, and by early training an Episcopalian, she removed to Cardiff about 1870, when she became identified with our Church. Primitive Methodism in Cardiff and in Glasgow, whither she removed fifteen years ago, has had no more loyal or true-hearted member. Her interest in Connexional objects is well known. She keenly participated in the Vice-President's itinerary—particularly in the country villages—during Sir George's year of office.
For the Orphanages she had the deepest sympathy. In the wide sphere of public service, in which Sir George has taken so prominent and honourable a part, Lady Green also took an important share. A happy blending of sincerity and tenderness, simplicity, and a sweet humility which no honours or dignities could spoil, gave to her great charm and winsomeness. Said one:— "She was one of the finest types of womanhood it has been my privilege to know—so modest, so true, so radiant, so helpful. Her love for God's house and the fellowship of His people was very real. Religion was no vain thing to her, and its secret springs she carefully nourished and fed. This was the secret of her triumph over the weakness of the body. 
At the interment in the Western Necropolis, Rev. Joseph Ritson, who attended on behalf of the General Committee, gave an address.
Family
Mary was born abt1840 at Ashton under Lyne, Lancashire, to parents John Heywood, a blacksmith, and Ann Chadderton.
Whilst living in Cardiff, mary lived with her sister Elizabeth and husband, Joseph Ramsdale.
She married Sir George Green (1843-1916), an assurance superintendent, after the death of her sister Jane.
Mary died on 4 June 1915 at Paisley, Renfrewshire.
References
Primitive Methodist Magazine 1915/829
Census Returns and Births, Marriages & Deaths Registers