Hall, Margaret (nee Thompson) (1840-1911)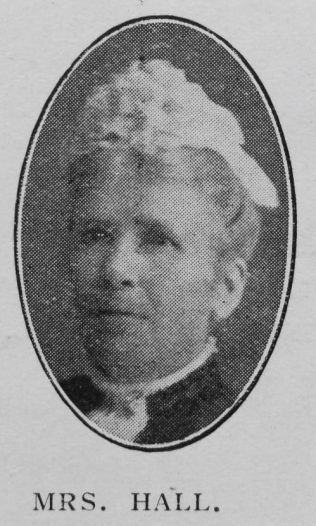 Transcription of obituary published in the Primitive Methodist Magazine by W.B.
Margaret Hall, the beloved wife of Joseph Hall, of Murton Colliery, in the Hetton Circuit, went triumphantly home to God on Sunday, May 14th, 1911, in her 71st year. Converted at the age of fourteen, she joined the Church of her parents, with which she retained her membership to the last. 
Hers was pre-eminently a life of service. She rejoiced in the opportunities afforded her of showing her interest in the growth of the Church. All its activities had in her a sincere friend and ready helper, nor did she count such work a drudgery, but reckoned it an honour to be accepted with gratitude. While her husband held the office of Circuit Steward she rendered him efficient help in his efforts for the success of the Circuit. Preachers was always welcome in her home. Her religion was bright and sunny; she kept her faith in God unclouded. 
The many trials through which she was called to pass were borne with exemplary fortitude. She had the pleasure of seeing her children become diligent and earnest members of the Church. They learnt the meaning and value of religion in their home, and now they "rise up to call her blessed." Her passing was peaceful and radiant, like the setting of the sun; for her the evening was full of light. She was laid to rest in the churchyard at Murton, amid many tokens of respect and love from the large crowd which had gathered, some from long distances, to pay their last tribute to her memory. The service was conducted by Rev. W. Barton, and a chaste and beautiful address was given by the Rev. M. Johnson, of Hexham. Margaret Hall will be long remembered by all who knew her, and that with admiration and love,
Family
Margaret was born abt1840 at East Murton, Co. Durham, to parents William, a coal miner (1851) and Margaret.
She married Joseph Hall (1842-1912), a coal miner, in the summer of 1865 in the Easington Registration District, Co. Durham. Census returns identify five of seven children.
Margaret (1868-1925) – a milliner (1891); married Joseph Nichol in 1891
William Oliver (1870-1954) – a school authority clerk (retired) (1939)
Elizabeth Jane (1874- – a domestic servant (1891); married Amos Ryder, a PM minister, in 1903
Joseph (1876-1956) – a school attendance officer (1911)
Elijah T (1878-1954) – a clothing manager (1911)
Margaret died on 14 May 1911 at Murton Colliery, Co. Durham.
References
Primitive Methodist Magazine 1911/831
Census Returns and Births, Marriages & Deaths Registers