Heath, Annie (nee Hollins) (1839-1905)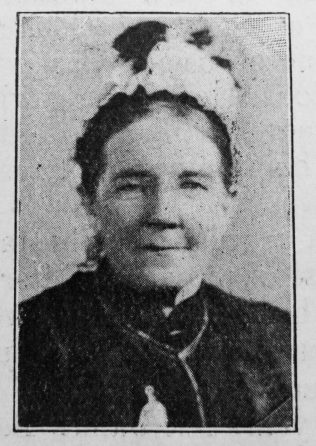 Transcription of Obituary in the Primitive Methodist Magazine by George Jones
There has just passed from our midst Annie, the wife of Mr. Councillor Heath, of Normacote, at the age of sixty-five years. She was brought to Christ in the old Sutherland Road Church, Longton, during special services conducted by the Rev. W. Wright: from that time till the day of her death her fellowship with Primitive Methodism and with the Longton Circuit was never broken.
One of the outstanding qualities of her character was generosity. At her funeral there was a remarkable manifestation of respect. She was buried in the village churchyard, not far from the place of her birth and where she was well-known. A memorial service was conducted in the Wesleyan Church by our own minister and was largely attended. Many letters of condolence have been sent by former ministers and friends all bearing witness to the worth and work of our deceased sister.
The Rev. W. Wright, a very old friend, writes:- "How tenderly she used to minister to my necessities when I was a young man and made my home with you long years ago. Throughout the whole of my ministry I have cherished the most pleasant and grateful memories of her generous and sympathetic treatment."
The Rev. John Shepherd, an old superintendent of the Circuit, expresses himself: "She was a good, noble-hearted and true woman, faithful to God and his church. She was in the front rank of the good women it has been my pleasure to know and her name will be fragrant to me for many years to come. I shall revere her memory."
The Rev. W. M. Kelley sends the following testimony:- "I have always thought with gratitude of your wife's kindness during my ministry at Longton; she was a good, genuine-hearted woman." 
The Rev. F.A. Ingham speaks of many helped by her generosity:- "Our little church at Normacote has lost one of the most loyal supporters and her departure is a loss to all she has left behind."
Last of all the Rev. D.T. Mann writes:- "We shall ever hold the memory of your loved one dear. Her kind words and deeds to us are cherished in our hearts, we hold them as hallowed memories, and shall in the years to come. Her devoted loyalty to Christ and His church will be an object of deep respect and reverence."
Mrs. Heath was an invaluable wife and mother, reminding us of the words, "The heart of her husband doth safely trust her – her children rise up and call her blessed."
She took a deep interest in our orphanage and was a regular contributor to its funds. She was also a member of .the Ladies' Committee of the Tunstall district.
Family
Annie was born in 1839 at Milwich, nr Stone, Staffordshire to parents William, a farmer, and Ann.
She married Charles Heath (1834-1911), a grocer, in early 1861 in the Stone, Registration District, Staffordshire. Census returns identify eight children.
William Thomas (abt1861-1909) – a locomotive fireman (1891)
Mary Hollins (1862-1898) – a dressmaker (1881); married Thomas Adams, a pottery worker, in 1888
Annie Sophia (abt1865-1932) – a grocer & baker (1911)
Sarah (1866-1911) – married William Atkins, a school board clerk, in 1894
Gertrude (1870-1896) – a draper (1891)
Emily (1872-1945) – a post office clerk (1901); married Alfred Edwin Blackhurst, a grocer, in 1907
Samuel Antliff (1875-1964) – a grocer (1911)
George (1877-1883)
Annie died in late 1905.
References
Primitive Methodist Magazine 1907/74
Census Returns and Births, Marriages & Deaths Registers