Hopgood, Robert (1854-1911)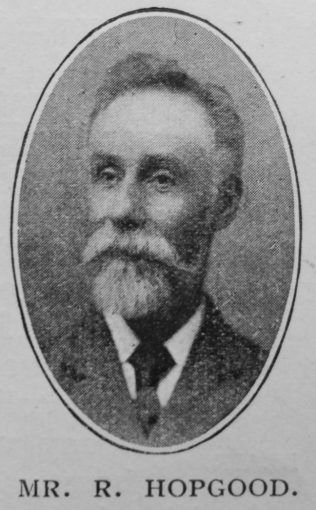 Transcription of obituary published in the Primitive Methodist Magazine by J.J.
Mr. Robert Hopgood, who passed away at Basingstoke, Feb. 12th, 1911, after only two days' illness, aged 56 years, had been for many years a most respected and useful official on the Circuit. Born at Charlton, near Andover, where he became a local preacher, he came to Basingstoke about thirty-two years ago, and since that time has served the Church and Circuit in varied ways, as Class Leader, Society Steward, Circuit Steward, and Treasurer of the Sarum Hill Church. His services as a local preacher were always acceptable—and no journey was too long, no congregation too small, when appointed.
He entered heartily into the undertaking of the building of Sarum Hill Church, and took his full share of responsibility. His affable manner, his attention to detail, and faithfulness to duty secured for him the greatest confidence of his brethren. They trusted him, were influenced by his opinions, and stimulated by his constant gifts and service. It was a great joy to him to see his children — two sons and four daughters —all members of the Church to which he was so devoted.
For several years he had served the Town as a Councillor, and his character and work in that position were greatly appreciated. He was accorded the honour of a Civic funeral, the Mayor and Corporation attending the service in the Church and at the grave. 
The service was conducted by Rev. J. Jones, assisted by Revs. W.S. Thomson, J. Leach, and J Turiey, the latter of whom gave a most appropriate address. A memorial service, on Sunday, February 19th, was largely attended. All felt that of the departed it might be rightly said, he was "A devout man, who feared God with all his household, gave much alms to the people, and prayed to God always."
Family
Robert was born in the summer of 1854 at Charlton, nr Andover, Hampshire, to parents Samuel Hopgood, who worked the land, and Sarah Allen.
Census returns identify the following occupations for Robert.
1871 labourer at iron foundry
1881 engine fitter
1891 coal merchant
1901 coal dealer
He married Mary Jane Dudman (1856-1934) in the spring of 1879 in the Andover Registration District, Hampshire. Census returns identify six children.
Lilian Mary (1881-1973) – a stationary shop assistant 91911); married Bernard Rigden, a shopkeeper (1939), in 1911
Augusta Sarah (1884-1967) – married Ernest Lloyd Viner, a furniture dealer (1911), in 1910
Sydney Robert (1886-1973) – a coal merchant (1911)
Stewart William (1890-1950) – manager of distribution of commercial vehicles (1939)
Frances Grace (1893-1977) – married John Tarrant Myland, a timber merchant's clerk (1911), in 1923
Beatrice Christine Jane (1895-1984) – married Evan J Fairchild, a head teacher (1939), in 1923
Robert died on 12 February 1911 at Basingstoke, Hampshire.
References
Primitive Methodist Magazine 1911/318
Census Returns and Births, Marriages & Deaths Registers